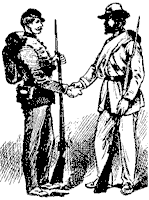 ---
This was copied from a book in the Chattooga County, Ga Library (no title). The camp was called "Camp Chickamauga" in Walker County History, page 149 and this information was made available to us by Benton Fletcher.
This information is here for your personal use and may not be published without the written permission of Benton Fletcher and Sherry Osburn.

REUNION - THE FRANK LITTLE CAMP
Sep 21, 1893

Of the 174 Walker County Veterans, 33 were present

Allison, W. F.
Bond, John F.
Brotherton, J. L.
Conley, W. G.
Cox, W. P.
Culberson, E. L.
Davis, H. L.
Dillbeck, E. F.
Dougherty, Robert
Duncan, H. L.
Ellison, A. P.
Foster, W. B.
Hackney, T. C.
Hill, J. B.
Horn, James
Inman, G. W.
Jackson, D. C.
Jackson, J. M.
Jones, Lewis
Littlejohn, A.
Manely, T. J.
Meyers, W. W. S.
Napier, N. C.
Pepper, A. H.
Pursley, D. N.
Shaw, John
Styles, D. H.
Thurman, B. F.
Wardlaw, J. C.
Watts, J. B.
Weaver, H. C.
Webb, J. H.
Wiston, W. D.
---

If you have any questions or comments please contact Tim Stowell

Copyright 1998 by Sherry Osburn
---

Copyright 2001 by Bill Clody
all rights reserved

This page was last modified: 4 Aug 2011