Walker County Families

Fortune - Hicks
William Fortune married Mary Hicks and settled in Walker County, Georgia. Their daughter Antoninette Fortune, my great grandmother, was born there May 8, 1842. I'm not sure how long they stayed in Walker County, but they also had two more daughters born in Georgia, Harriett, was born in 1843 and Elizabeth was born in 1844.
An older brother, William D., who was also born in Georgia became a Minister of the Methodist Episcopal Church and was called to the St. Joseph Mission Church in Missouri in 1857. William married Sarah Ann Brown. When Antoinette Fortune married Hiram Brown (Sarah Ann's brother) in Ray County, Missouri, her brother William D. performed the marriage ceremony. Another of Hiram's brothers, Caleb married Martha (Fortune, I think), also born in Georgia.
submitted by:Roslyn Russell

Henry - Dickey
Josiah Moore HENRY, was born in Haywood County, North Carolina on May 4, 1826. He came to Walker County January 31, 1858 and settled on his plantation. On April 20, 1858 he married Eliza DICKEY of Walker County, a daughter of Joshua DICKEY. They had 13 children together, including my grandmother, BEATRICE.
During the Civil War he enlisted in Company F, Fourth Georgia Cavalry, commanded by Col. I. W. Avery.
Josiah HENRY was recognized as a man of worth in his community and a gentleman of education and refinement. He was a teacher and many of his students have risen to honor and distinction.
For more information on this family see, Memorys of Georgia, The Southern Historical Association, Vol. II, page 595.
submitted by Janet Smith

Thrash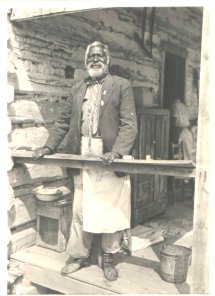 Mark "Doc" Thrash claimed to have been born Dec 25, 1820 in Richmond, Virginia, six months after his parents had arrived as slaves from Africa. He was married 4 times, father of 29 children, 10 in his first family, 12 in his second, 7 in his third and none in his last marriage to Mary Arnold, 6 Mar 1897 in Walker County. An article in the History of Walker County, Georgia, published in 1932, page 130, says that he has one son now 88 years old.
Doc Thrash went with his master to the war as a servant, was captured back and forth several times, winding up in the hands of the Yankees which, luckily for him, entitles him to a pension, which he enjoyed in his later years. The coat that he is wearing in the picture was given to him General Grant.
He is found on the 1900 Walker County census in Crawfish Springs District #826, age 77 with is wife Mollie.
This information was submitted by Margy Miles (miles@mail.usmo.com), who would like to share and exchange information about Mark "Doc" Thrash with his descendants. Please contact her for more information.

Williams - Humphries
John W. Williams and his wife, Marinda Humphries Williams were relatively "late comers" to Pope County, Arkansas, arriving around 1870. The civil war had brought devastating changes into John and Marinda's lives and they had migrated to Pope County hoping for a fresh start in life.
John W. Williams, was born 5 Jan 1809, one of ten children born to Louis Houston and Winney Frances Williams. Louis was an early settler of Walker County, Georgia. Walker County was inhabited by the Cherokee Indians until 1838. There was one small country store where the city of Atlanta is now located, at that time known as "X" roads. During 1835, Louis Williams and Amos Williams, two brothers with their families moved from Gwinnett County to Walker County.
Louis settled near what is known as Gordon's Gap on the Alabama Road where he resided until his death which occured during the civil war. He was an active member of the Baptist Church and a local leader and authority in the Democratic party. Amos Williams was a Whig in politics and a member of the Methodist Church. The brothers were known in the community because of the differences over politics and religion. The minutes of the "Coosa Baptist Association" list Louis Williams and his sons, John W. and Amos Williams (named undoubted for his Methodist Uncle) as members of the Association. The Coosa Baptist Convention's annual meetings were held in the Peavine District in Walker County, Georgia from 1853 until 1857, with the Williams family shown as attending the meetings.
The community Louis Williams lived in was called Chestnut Flats and with the assistance of slave labor and his own hard work, by the early 1840's, he had acquired a large cotton plantation and a beautiful two story home. Louis' first wife, Winney Frances (maiden name unknown) died on October 8, 1850 of typhoid fever and she was buried on the grounds of the plantation. Louis, who was born 29 Nov 1785 in Virginia, was in his early 70's when he married a second time. Louis' second wife was a much younger woman named Sarah Moon. She was thirty eight years old at the time of their marriage, however, they had no children.
John W. Williams, Louis' older son, married Marinda Humprhies in Walton County, Georgia on 23 Dec 1830. Marinda born 12 Jun 1815 in Jackson County, Georgia was the daughter of Shadrack and Sarah Camp Humphries. She was in the unique position of being the only daughter among nine sons. Marinda's father, Shadrack, died prior to 1830 and did not live to see his only daughter marry. Sarah Camp Humphries died on a Monday, 6 Feb 1832 in Walton County. She did not live to see the birth of her daughter's first child, a son, born 20 Apr 1832 in Gwinnett County and named James Louis Williams.
John and Marinda and their young son moved to Walker County in 1835 when Louis Williams decided to move there. John and Marinda settled a short distance down the road from Louis' plantation. They seem to have lived an ordinary life the first forty years of the marriage. Their union produced eight children, James Louis born 20 Apr 1832; Jane Vashtie born 25 Oct 1836; Mary Caroline born 2 Jun 1839; Martha Victory born 19 Mar 1842; Sarah Winney born 31 Mar 1837; Melissa Marinda born 11 Aug 1854; Jackson Jeremiah born 29 Dec 1857 and Elizabeth Mary born 10 Aug 1858.
John and Marinda's quiet ordinary life came to an end when the civil war started. John's brother, Jeremiah Jackson Williams, who had joined the Confederate States Army, 4 Mar 1862 was killed in the battle of Resaca in April of 1863. The battle took place just seven miles from the Williams plantation and Jeremiah's body was brought back to the plantation and buried on the grounds next to his mother. Jeremiah left a widow and three fatherless children. Louis Williams who was 78 years old in 1863 died two months later on 4 Jun 1863. The stress of the war and the loss of his sons seemed to have overcome him. He, too, was buried on the grounds of his beloved plantation. Marinda later told her grandchildren of the days of the war and of hiding the family's silver in the banks of a creek to keep the "yankees" from stealing it.
The war's end brought heart wrenching changes in the family. The courthouse in Walker County, Georgia burned, so it is not possible to know the contents of Louis Williams will. Somehow, either by inheritance or purchase, Sarah Moon's brother became owner of the plantation house.
John W. Williams is not listed on the 1870 Pope County, Arkansas census, however, he must have arrived in the very early 1870's. He was appointed the Postmaster of the Glass Village Post Office in October of 1872. He retained that position until his death 30 Sep 1878. Marinda, left alone, after John's death moved into the home of her daughter, Jane Vashtie Hopkins. Her husband Frances, operated a mercantile business in Appleton, Arkansas. Marinda died 18 Dec 1900, she and John are buried in the Appleton Cemetery in Appleton, Pope County, Arkansas.
John and Marinda Humphries Williams were my Great Great Grandparents, for more information on their family, please contact Virginia Campbell (jcampbell@mev.net), who submitted this information.

Brooks Family
Jesse E. Brooks was born about 1808 and died after 1870. He married Martha (unknown), they moved from Laurens County, South Carolina to Georgia in the later 1830's. In 1840 Jesse and his family are in Campbell County, Georgia and in 1850 they are in Walker County in the Armuchee District. In 1860 they have moved to Sugar Valley District in Gordon County, Georgia, 1870 finds him still in Gordon County. Jesse died after 1870, his wife, Martha is with him in all the census except the 1870, so she died between 1860 and 1870. Jesse married Mary Eaves in Gordon County, Georgia on March 31, 1866. Jesse is listed as a farmer on the 1850 census in Walker County and as a miller on the Gordon County census. Jesse and Martha had four known children, David H. - Malinda - Parker R. - James O. Jesse and Mary had one child named Martha A.
David H. Brooks was born about 1830 in Laurens County, South Carolina and died April 10, 1865 in Elmira, New York (Confederate prison). He is buried at Woodlawn National Cemetery in grave #2542. David married Malinda "Linda" Hall, born in 1825 or 1826 in South Carolina. She died after 1891 and is buried in an unmarked grave in the Rocky Face Baptist Church Cemetery.
David enlisted in the War Between the States on May 7, 1862 at Tunnel Hill, Georgia. He was in the 11th GA Company G Infantry. They fought in most of the major battles with Robert E. Lee. David was wounded in the 2nd Battle of the Wilderness and left on the battlefield. Captured by the Northern Army he became a prisoner of war (May 6, 1864). David was first held a prisoner at Point Lookout in Maryland, then he was transferred to Elmira Prison in New York. David died at Elmira Prison on April 10, 1865 (one day after Lee surrendered to Grant). The death report said that David died from pneumonia. David and Malinda were buried hundreds of miles apart, but The Sons of Confederate Veterans placed a memorial stone at the Rocky Face Baptist Church Cemetery in honor of both of them in November 1996. They also placed a stone there for his brother Parker R. Brooks. Children of David H. Brooks and his wife Malinda Hall are James Jefferson "Jim" - Augustus R. - John H. - Walter O. - Martha Lucinda Josephine (Joe) - Georgia Ann.
Walter O. Brooks was born August 19, 1856 in the Armuchee District of Walker County, Georgia and died April 19, 1925 in Chickamauga, Georgia. Walter married Rebecca Jane Bailey, who was born August 16, 1855 in Walker County and died December 28, 1928, both are buried at Rock Springs Cemetery in Walker County, Georgia. Census records show us that Walter was a farmer. Rebecca and her son Jesse died in the same house one day apart from pneumonia. The children of Walter O. Brooks and his wife Rebecca Jane Bailey are: David L. - John A. - Lula Mae - Jesse Gordon - Ernest J. - Barris.
Jesse Gordon Brooks, was born October 16, 1884 in Walker County and died December 29, 1928 in Chickamauga, Georgia. He married Maggie Lucille Brock, the daughter of William Newton and Mary Adaline (Mae) Shaw Brock Maggie was born November 3, 1885 and died February 11, 1964 in Walker County, Georgia. Jesse and Maggie are buried at Rock Springs Cemetery in Walker County. Their children are Jay Hugh Frederick - Cecil Ralph - Janie May - William Taft - Jesse Willard (Mirt) - Frank Shields (Cloudy) - Lulla Margaret - Thomas Earl (Tom) - Robert Guy (Bob).
Robert Guy (Bob) Brooks, was born February 27, 1926 and died September 24, 1989 and is buried at Rock Springs Cemetery in Walker County, Georgia. Bob married Frances Louise Devern Harris, who was born Jun 26, 1931. on Jun 26, 1948 at Preacher Cleghorn's house at Corinth community. Their children are Gary - Larry - Debbie.
Robert Gary Brooks, was born June 4, 1949 and married Linda Faye Townsend, who was born November 12, 1950. They have one child - Bobbie Jeane.
Richard Larry Brooks, born March 22, 1952, married Vera Grace Baker, who was born July 10, 1953. Their children are Richard Larry (Jr.) - Candy Leigh - Jennifer Heather.
Deborah Elaine Brooks was born February 7 1955 and married Steven Douglas Owens, born January 29, 1953. Their children are Steven Douglas (Jr.) - Daniel Heath Owens.
For more information on these families please contact R. Gary Brooks, who shared his family with us.


If you would like to add your family to this page, please write to Tim Stowell
copyright 2001-2004 by Bill Clody
all rights reserved
This page was last modified 29 Jun 2011