"GRIP'S HISTORICAL SOUVENIR, DERUYTER.
---
Copyrighted by "Grip," 1900
---
"GRIP'S" GAZETTE---Vol. VIII, No. 3---December, 1900.
No. 107 Oxford Street, Syracuse, N. Y.
---
The State Gazette of Social Events and Public Affairs in the Empire State.
Contemporaneous History and Real Life. The Only Publication of this Character in Print. A Valuable Publication for Reference.
---
CONTRIBUTORS TO THE DE RUYTER SOUVENIR.
-----------------------
| | |
| --- | --- |
| ANNAS, H. BERTHA | CONE, MRS. MONROE |
| AMES, W. W. | CLARK, LIZZIE |
| BULL, REV. D. W. | DARROW, REV. W. E. |
| BENJAMIN, MRS. DELANCEY &nbsp | FISKE, MRS. S. W. |
| BABBITT, CHAUNCEY | HOWES, HENRY |
| BAKER, A. L. | LEWIS, MRS. CORNELIA L. |
| BURDICK, LUKE | MESSENGER, H. D. |
| BURDICK, W. E. | MITCHELL, H. P. |
| BENJAMIN, E. D. | MITCHELL, FRANK S. |
| BURDICK, FRANCIS M. | ROSENBERRY, REV. G. W. |
| CRANDALL, H. JEROME | RAINEY, W. W. |
| COON, MRS. H. C. | SWINNEY, REV. L. R. |
| CONNELL, FRANK | TALLETT, MRS. F. A. |
&nbsp "Grip's" Historical Souvenir of DeRuyter fulfills several missions. It carries the news and perpetuates the scenes and historical data, which instruct and entertain a community. It records the approximate value to the village of business and professional man. It introduces him to the men and women who are leaders in professional, financial, commercial, manufacturing and social circles. It names the enterprising and successful resident of DeRuyter. It places in durable and permanent form a valuable compilation of personal and general information which in years to come are prized beyond value. It does not lay to the soul unctious flattery. It caters not to vanity. The man of "sterling integrity" does not learn in this Souvenir that he possesses a jewel of such rare price. "Our leading," "genial," "affable" citizen are phrases unknown to its pages.
The Contributors to this Souvenir, have---perhaps unconsciously in some cases---rendered the people of DeRuyter a great service. Accuracy in writing is an important end to be obtained and it is only by a member of the society that its history can be intelligently and accurately written. We are sure that every member of the several societies which are historically presented in this Souvenir will join us in expressing thanks to the writers of these most valuable and interesting sketches. Their work will long outlast them.
The Views in this Souvenir were made by E. D. Benjamin, who is a first-class photographer. A great amount of work and considerable care was exacted, and the gentleman was especially painstaking, recognizing the fact that the character of THE SOUVENIR depended a great deal on his workmanship. In towns the size of DeRuyter, too little attention is paid to photography; but here the rule is the reverse. This is undoubtedly owing to the fact that the photographer understands his business, and generally gets excellent results.
DeRuyter, Marathon and the Telegraph---The three pioneers in electrical development for commercial purposes went out to preach the gospel of telegraphy from two villages less than fifty miles apart. Ezra Cornell of DeRuyter, N.Y., and G. L. Swift and Lewis S. Swift of Marathon, N.Y., went to Chicago to form a stock company for establishing a telegraph line. Cornell carried the stock books and Lewis and G. L. Swift lectured. The two latter were known as brothers although they are really cousins. Commercial interests declaring the scheme impracticable, were invited to witness the demonstrations. At each end of a temporary line, a hundred or so rods long sat the demonstrators. The capitalist wrote a message at one end, then walked over to the other and watched the demonstrator receive it, reading the message as he wrote it down and declaring that it was correct. But it "would not pay." To the Chicago Tribune the suggestion was made that a correspondent in New York could send that paper news over the wire. But the Tribune had no use for telegraphy. "It wouldn't pay." To-day the Tribune building is alive with clicking machines. Lewis Swift is now the world famous astronomer of the Lick observatory. G. L. Swift is at the head of the leading business interests of Marathon. Ezra Cornell is dead. Central New York bears the honor of making the first appeal to capital in the interest of commercial electricity.
The Ladies' Aid Society, M. E. church, was organized in the winter of 1885 for the purpose of aiding and assisting in the work and expenses of building the present church. The present constitution was framed and adopted Feb. 16, 1890. The present officers, 1900, are: Mrs. Chas. Hayes, president; Mrs. H. D. Preston, first vice-president; Mrs. Bert Hill, second vice-president; Miss E. D. Bugbee, secretary; Mrs. W. E. Burdick, treasurer.
H. M. Doran, the hustling salesman for the Souvenir, was born at Belvedere, Ill, Dec. 13, 1866, and is a baker by trade. For many years he followed the life of a newspaper man. Experience gained while with the Cortland Saturday Review and other papers including the DeRuyter American during the life of that journal, proved of value in his work on the Souvenir.
M. E. Sunday School.---Pioneer work in DeRuyter began on May 17, 1850, when Nelson A. Smith and L. J. Wheelock assembled the people, regardless of sect or creed, in the old union church. Elder Irish, then principal of the DeRuyter seminary, made a stirring address, after which the DeRuyter Union Sabbath School was organized, with about forty members. Its first officers were: L. J. Wheelock, superintendent; Nelson Smith, assistant; Jonathan Vail, librarian; Noah O. Coleman, assistant. This little company labored together until the approach of winter, when they were obliged to close on account of a large number of children being unprovided with clothing. Early the following spring committees made a house to house canvass soliciting funds and clothing and their appeals were not in vain. The report made by the superintendent at the close of summer, (Nov. 9, 1851) showed best the progress of the work:---"Our school commenced May 25 and to-day is the twenty-fifth school. We commenced with about forty pupils and now have about 130 enrolled. Our average attendance has been over seventy." The spring of '52, by mutual consent, the Methodist part of the school separated themselves from the rest and founded a school which now ranks high with institutions of its kind, having a membership of nearly 150 under the leadership of Supt. J. O. Griffith. Miss Lettie McAllister is the secretary, Mr. Eugene McAllister the treasurer and Jennie Shapely the librarian.
Mrs. Harriett Helen Vincent, one of the fairest and noblest of the many splendid women for which DeRuyter has always been noted, gave society and church that radiance of personal charm which entitles her to recognition in local annals. Her father was Dr. Hubbard Smith, the first practicing physician in this village, a practitioner of sterling qualities widely known in this section. His home at the time of the birth of his daughter Harriett stood on ground now included in the Union school green. It was due to him as much as most others that DeRuyter became known as a progressive, wide awake community. Harriett Helen was born on March 31, 1809. She was blessed with that rare feminine beauty which together with her lovely qualities inherited from her parents, attracted much attention and won her popular admiration. She was greatly devoted to charity, always seeking those to whom she might administer comfort and render material assistance. When nineteen years old she married Cornelius D., the son of Judge Vincent of Cortland county, whom she survived many years. At twenty-one years of age in the course of a revival she embraced Christianity and united with the First Baptist church, in which society she ever after to the time of her death, which occurred April 23, 1892, was personally active, giving much of her time and means to its welfare. Above all else, home had in store for her the richest blessings. She raised a large family, nine children, and gave to them a mother's loving care. At the same time she in no wise neglected her social duties which were abundant. That her death was mourned by the whole community was evidenced by the sincere expressions of sorrow and offerings of respect that were evoked at the time of that sad event. In old age she retained that remarkable beauty which too often departs as time creeps on. The last sad offices were paid to her memory by the two clergymen who officiated at the funeral, the Rev. Judson Davis and the Rev. L. R. Swinney. As the latter wrote of her "all through her life shone those quiet Christian graces, patience, gentleness and humility, which made her a rare mother and radiant Christian." Miss Ella J. Vincent, her daughter, still lives in DeRuyter, and carries on a successful millinery business. The rest of her children now living are Eunice J. (Mrs. Waite Risley) of Cuyler, and Edlie G. (Mrs. A. P. T. Beniteau) of Detroit, Mich. Those of her children deceased are Ellen J. (Mrs. Lyman J. Carter), Oscar F., P. Westerman Vincent, Randolph J., DeForest D. and Theron L.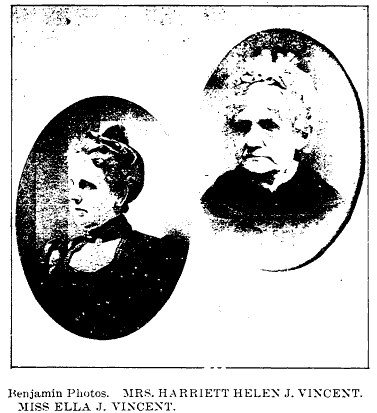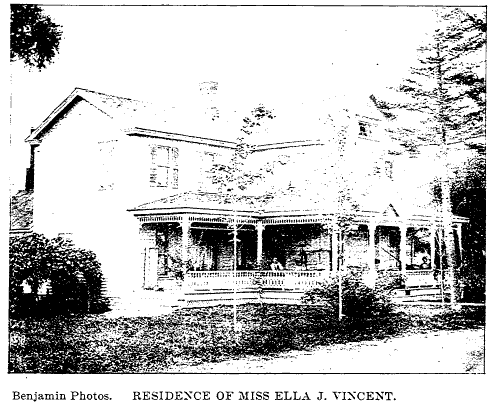 ---
The Junior Endeavor, Seventh Day Baptist church, was organized Jan. 8, 1898, with the following officers: President, Lilla Murray; vice-president, Lillian Stillman; secretary, Lois Holmes; treasurer, Cora Coon. The church is very fortunate in having a goodly number of boys and girls who are bright, active workers in this society. The social and floral committees have done very efficient work. The society gives yearly for benevolent purposes at home and abroad. This year the money for foreign work was sent to starving India. The present officers are: President, Leslie Swinney; vice-president, Melvin Coon; secretary, Daisy Miles; treasurer, Raymond Burdick; superintendent, Bertha Annas.
Edwin M. Stanton succeeded A. W. Francis to the flour and feed business in March 1899. By pursuing modern business methods, such as keeping up stock to the fullest capacity which the large warehouse will accommodate, making tempting prices with small margins and systematically reaching the dairymen by personal correspondence, he has enlarged his circle of patronage over a large dairy region. During the first six months of the present year his business has doubled that of the corresponding months of last year, although during the first twelve months of his incumbency he sold 125 cars of feed besides handling other supplies required by farmers such as flour, fertilizers and poultry supplies. The warehouse, having track connections with the Lehigh railroad, with shed accommodations for teams, is favorably situated and conveniently constructed. It is a story and a half building, 36x92 feet, with a storage capacity for twelve or fifteen car loads. The business has grown so rapidly, however, that Mr. Stanton contemplates enlarging by building additional floor space and doubling his warehouse capacity. On March 1, 1896, he came to DeRuyter and bought the general merchandise business of E. B. Irish, the store now occupied by Mr. Frank Gardner. By hustling methods, wide advertising and close prices he worked up a trade which reached as high as $25,000 a year. Mr. Stanton is the son of J. A. Stanton, a large farmer near New Woodstock, where the former was born, Nov. 2, 1871. Upon leaving the Cazenovia seminary, he took a course in Eastman's business college at Poughkeepsie, then entered a clerkship with his uncle, C. H. Stanton at Westerly, R. I. In April, 1892, he went into the general merchandise business for himself at Truxton, which he sold out in October, 1895. During a brief ensuing period---until March 1, 1896, when he began business in DeRuyter---he sold goods on the road for D. D. Winston & Co. of Utica. On Dec. 8, 1892, he married Blanch H., the daughter of D. F. Gardner, a prosperous farmer near Sheds. He is a member of the local lodge of Masons of which he is the senior warden and is a Knight Templar belonging to the Cortland Commandery.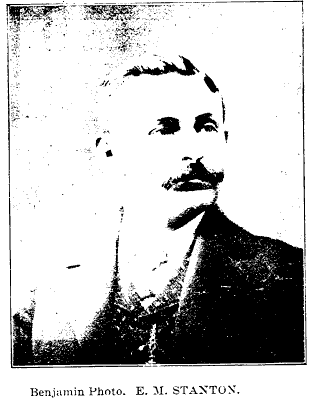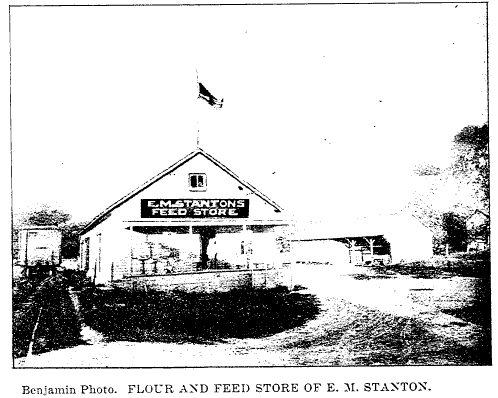 ---
French Refugees.---Madison county early in the century became the home of two exiles from France, who sought security in America during the troublesome periods of the French revolution and Napoleon's rule. Angel DeFerriere, a nobleman, sought an asylum first in Holland, then in America when the throne of Louis XVI was overthrown. In company with Mr. Lincklaen he settled in Cazenovia and later met and wedded Polly, the daughter of Lewis Dennie at Canaseraga. His wife brought him a farm near Wampsville to which he added land until he became the owner of 3,000 acres. He returned to France in 1817 and received his heritage which he brought back with him. At the age of 63 years, Sept. 17, 1832, he died on his Wampsville estates. The fortunes of Louis Anathe Muller, known as the "French Count " in the tales of the old residents of the town of Georgetown are more fully described on another page (see Muller Chateaux, p.60). But it is interesting to note that the estates of the two French exiles were separated by only a few miles of virgin forests; that it is not probable that either was aware of the fact, although both were distinguished in the court of Louis XVI and probably knew one another, and that they returned to France to secure legal claim to their heritage only two or three years apart and then came back to America, one to settle upon his Wampsville estates and the other to dispose of his deserted chateaux. Muller was only six years older than DeFerriere.
Mr. and Mrs. Orville L. Stillman have a delightful home on the west shore of Tioughnioga lake, in the town of DeRuyter, four miles north of the village. Forty-five acres of fertile soil including the summit and eastern slope of a range of hills parallel to the lake and having a rise above the normal level of about 400 feet and comprising a broad strip of level shore land, have mostly been brought to a high state of cultivation by hard work and close attention. Remarkable success has been achieved in raising berries and small fruits. The buildings standing at the head of a gradual rise of about fifty feet above the lake, afford an outlook of water and hill scenery that is not surpassed in this locality. Mr. and Mrs. Stillman have many friends who deem a visit to this beautiful home a rare treat. Mr. Stillman was born in Lincklaen, Chenango county, N.Y., Jan. 14, 1836. His father, Sanford B., when a young man, came from Stonington, Ct., and settled in Lincklaen, where besides taking land he worked as a carpenter and builder. He died in Lincklaen about 1866. Of a family of six children two girls are dead. George R. lives in DeRuyter and Frank LaFloyd is a resident of Cortland. Mrs. Emma Poole, their surviving sister, resides in Lincklaen. Orville L. attended the DeRuyter academy in 1856-'60 and on January 4 of the latter year he married Adeline E. Ackley of Lincklaen who died in 1888. By this marriage there were two sons, D. L. Stillman of Syracuse and Arthur A. of Tully, N.Y. Their only daughter, Alice, a lovable and accomplished woman and a skilled musician who was very popular with all who knew her, especially in DeRuyter where she was in considerable demand as an organist in the churches, died at the age of twenty years, the wife of B. J. Brown. Mr. O. L. Stillman was a recruit in the 114th New York infantry. His enlistment was in August, 1864, and he served in some of the hottest of Sheridan's campaigns, being wounded at Winchester.. He was mustered out June 19, 1865. Before leaving to go into the army he purchased the farm he now occupies. This has since then been his home, except for about seven years during a part of which time he was engaged in making cheese at Cuyler. Mrs. Stillman, his second wife, to whom he was married August 11, 1888, was Diantha Sanders, afterward Mrs. Burdick. Her home was in Lincklaen at the time of her marriage and she was born in the town of DeRuyter. Her father was a farmer but the latter part of his years he was a grocer in DeRuyter.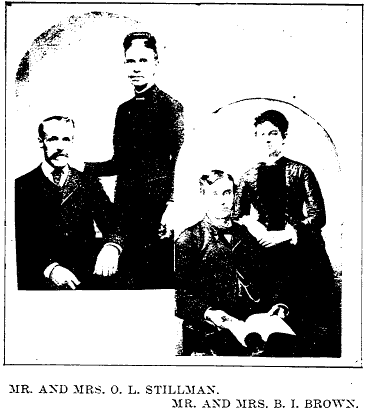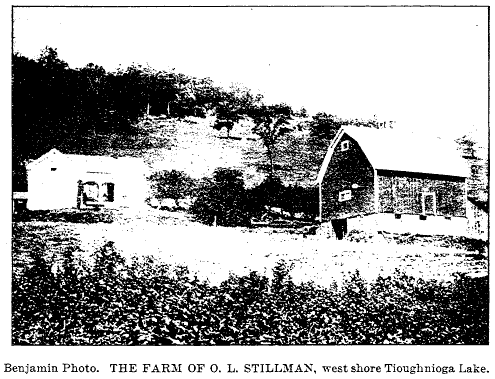 ---
The Y. P. S. C. E., First Baptist church, was organized on Nov. 26, 1889, to meet the needs of the young people. Its first officers were: President, Jennie Spear; vice-president, Frank Clark; recording secretary, Carrie Mitchell; treasurer, Merton Nicholas. In the year 1895, this society entertained the county convention of Y. P. S. C. E. Merton Nicholas of this village acting as president of the county convention. Its present officers are: President, C. E. Babbit; vice-president, Nettie Ellis; recording secretary, Grace Nicholas; corresponding secretary, Nettie Ellis; treasurer, Alice Clark. The Committees: Prayer Meeting: Carrie Mitchell, Lena Rizley, Bessie Wakley, Chas. Clark. Music: Grace Utter, Rena Lee, Gertie Applegate, Alice Clark, Lettie Baker. Lookout: Merton Nicholas, Jennie Spear, Alice Clark, John Green. Social: Jessie Lane, Grace Utter, Lettie Baker. Sunday-school: Delia Baker, Matie Root, Rena Lee. Temperance: Frank Clark, Grant Rizley, Channing Babbit.
W. W. Rainey located in DeRuyter in 1894 and has since engaged in the harness business. Having an experience in trade covering many years and extending over wide fields, he possesses a capacity for broad liberal dealings which has given him an extensive acquaintanceship among prominent men in the business circles of the state. As an auction salesman he enjoys a reputation which he has been years in building up, both in city and country. At a rural fair or in a large commercial house he is equally at home. In the former case bantering with a customer who is looking for "bargain whips thrown in" or in the latter instance deftly displaying to wealthy patrons articles in broadcloth and other rich trophies of a business that is to be wound up, his proverbial originality and humor are entertaining and effective. No man in his profession is better known in Syracuse where he followed it for many years. He is also widely known among the Odd Fellows and Masons in both of which orders he has taken the higher degrees. In the latter he is a member of the uniformed ranks, the Cortland Commandery and Chapter; also the Patriarch Militant fourth regiment of which he is the chaplain, department of New York, I. O. O. F., and the subordinate lodges. His early years were spent on a farm in Madison county. John Rainey, his father, was a merchant at Leonardsville, Madison county, early in the century and afterwards resided in the town of Pitcher and at Cincinnatus. His death occurred at Truxton. W. W. Rainey was born in Pitcher Aug. 14, 1837. At seventeen years of age he entered the general store of John Rider at DeRuyter and four years later went to work for Merriam & McCracken as a clerk in Syracuse. On Aug. 27, 1860, he married Agnes E., the daughter of Noah T. Coleman of DeRuyter, and one year later entered upon a clerkship in the drygoods house of D. McCarthy & Co., Syracuse, where he held profitable positions as a salesman in different departments by promotion for nine years. In 1870 he began his career as an auction salesman by opening an auction house in Syracuse with R. P. York under the firm name of Rainey & York. The firm was dissolved three years later, but in 1880, he opened Rainey's auction rooms in the Bastable block where in the course of the several years he carried it on, everything from a peanut to a province was sold under the hammer. This occupation he also followed in many eastern and western cities where he often went under contract to dispose of large stocks of goods. Since locating in DeRuyter he is often called out for the same service.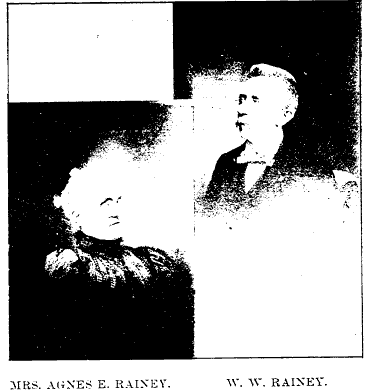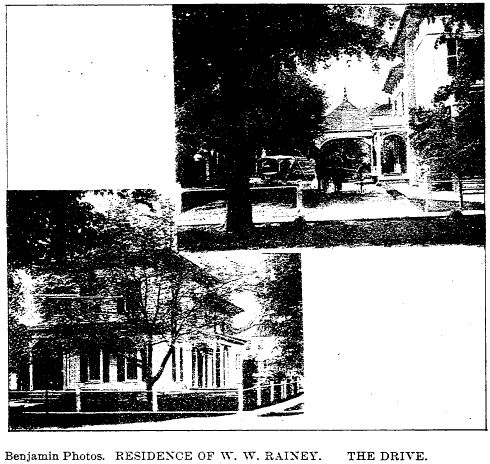 ---
County Judges.---Isaac Foote, 1800-1806; Peter Smith, Peterboro, appointed June 10, 1807; Justin Dwinnelle, Cazenovia, app. Feb. 7, 1823; James B. Eldredge, Hamilton, app. March 16, 1833; John B. Yates, Chittenango, app. March 16, 1837; Thomas Barlow, Canastota, app. Jan. 24, 1843. Elected---James W. Nye, Hamilton, June, 1847; Sidney T. Holmes, Morrisville, November, 1851; Joseph Mason, Hamilton, 1863; Charles L. Kennedy, Morrisville, 1867; B. Franklin Chapman, app. vice, Kennedy, deceased; Jan. 24, 1883; Alfred D. Kennedy, Nov. 6, 1883; John E. Smith, app. 1899, vice Kennedy, deceased---elected November, 1899.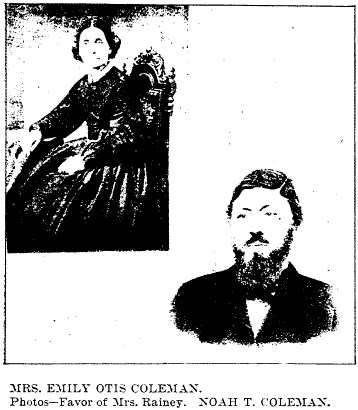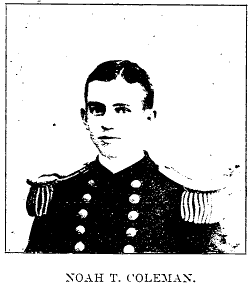 ---
Mr. and Mrs. Noah T. Coleman were among the most prominent of the early residents of DeRuyter, who have passed away, the first named in 1888 and his wife Aug. 6, 1895. Mr. Coleman was born in Otsego County Dec. 30, 1809 and came to DeRuyter when thirteen years old and entered the store of Col. Jencks, where he soon rose from position to position until he managed the business including the annual purchase of goods in Albany and their transportation hither by teams. Thrifty and enterprising he soon acquired a business of his own and for many years he was one of the merchants of the village who made it a prominent center of trade. His father, Noah H. Coleman, was a pioneer in Otsego County and later engaged in the drug business at Cazenovia. He and his wife, Mary, the daughter of John Tunnicliffe, spent their last years at Exeter, Otsego Co. Emily Otis, the wife of Noah T. Coleman and the daughter of Jacob Otis, was born in Truxton Aug. 26, 1809, and lived to the venerable age of 86 years. She was a woman of rare and excellent qualities, a fond mother and a favorite in social circles. Her father came from Colchester, Ct., first settling in Saratoga county where he began his mercantile career and afterwards in the early part of the century in Truxton, bringing with him his wife, Agnes Austin, whom he married in Massachusetts. Mrs. Coleman was the third of a family of seven children, the others being Austin W., Augusta, Ann Eliza, William H., Charles and Maria. She was educated in the Cortland female seminary. Mr. and Mrs. Coleman had two sons and two daughters: Noah Otis who married Emma Carpenter by whom there was one son, Frederick A.; Agnes, the wife of W. W. Rainey; William H., who wedded Carrie Murphy and had one son, Noah T., a young man who gave up his life in the United States naval service during the late Spanish-American war; and Mary T., the wife of DeWitt DeLong, by whom she has two children, Otis, living in Syracuse, and Maud, living at home. Noah T. Coleman, the young cadet, an ensign on the Iowa, died at San Francisco Sept. 21, 1899, the result of exposure during the Spanish war. His remains were buried at Oakwood, Syracuse, with military honors on Memorial day, 1900, having been placed in a vault during the interim following his death.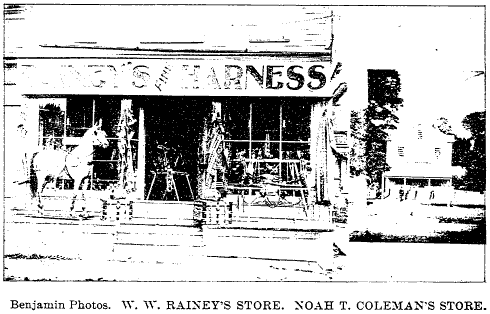 ---
Erection of Towns.---DeRuyter, March 15, 1798; Sullivan, Feb. 22, 1803; Nelson, March 13, 1807; Smithfield, March 13, 1807; Fenner, April 22, 1823; Eaton, Lebanon and Madison, Feb. 6, 1807; Lenox, March 3, 1809; Georgetown, April 7, 1815; Stockbridge, May 20, 1836; Oneida and Lincoln, 1896; Cazenovia, Brookfield and Hamilton, March 5, 1795.
The First Store in DeRuyter township was kept by Samuel Bowen a short distance north of the village.
Wallace E. Burdick, president of the village, is warmly interested in all improvements that advance the interests of the village and is foremost among those who seek to promote its growth and well being. For several years he was at the head of the fire department in which he was zealously engaged in making it an effective branch of the local government. As a member of the board of education he was an active supporter of modern methods in public education and the enlargement and greater efficiency of the DeRuyter schools. The profession of law, to which he was admitted in Binghamton in 1868, and in which he has an extensive practice as well as his activity in politics, has given him a wide circle of acquaintances in Central New York. Being an ardent and earnest worker in the Democratic party and a leading member of the county committee he has a large personal following at home and a close acquaintances with the state leaders. Mr. Burdick is a native of New England, born in Burlington, Vt., in 1847. In his childhood his parents moved to Onondaga county, residing at Brewerton where he attended school. He afterwards completed his education in the DeRuyter institute. Subsequently he spent a few years in business in New York city but in the early sixties came to DeRuyter where he studied law with Miner & Kern, one of the most prominent law firms of the county. Upon his admission to the bar, he practiced in company with Messrs. Kern & Miner until 1882 when he opened an office of his own. In 1885 he received the appointment of postmaster from President Cleveland and served one term. This recognition of his leadership in local Democracy gave him a standing at head of his party in his town which he has since maintained. Through his personal influence it has been made possible to fill some of the offices in this Republican town and village with Democrats---Mr. Burdick leading the way through his own election as a justice of the peace. His law practice comprises and supplements that enjoyed for years by Miner & Kern and has proven lucrative. Mr. Burdick has a pleasant home on Cortland street. His son George, who at the time the compilation of this work began, was a clerk in the postoffice at DeRuyter, is now a student at the Syracuse university. Many village improvements are due to the foresight and enterprise of Mr. Burdick, as president, who has the utmost confidence in the future growth and commercial expansion of DeRuyter.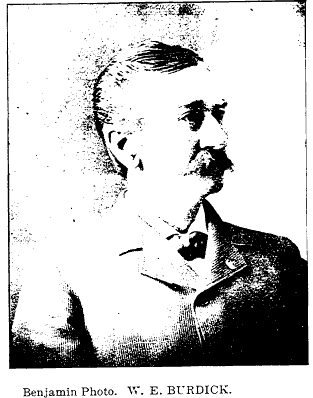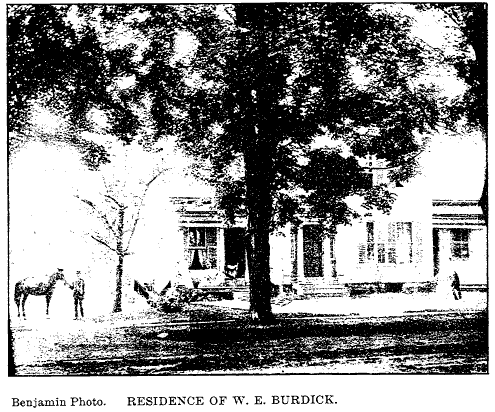 ---
Ladies' Aid Society, First Congregational Church---On the evening of July 6, 1896, a small circle of ladies met at the home of Mrs. F. A. Tallett and organized the society, Mrs. H. C. Blanchard acting as chairman and Mrs. I. E. Smith secretary. There was then no church of that denomination in DeRuyter but it was hoped and believed that with the aid of friends there would be one. Our first officers elected were: President, Mrs. Emmett Nash; first vice-president, Mrs. F. A. Tallett; second vice-president, Mrs. M. C. Godfrey; secretary, Mrs. I. E. Smith; treasurer, Mrs. H. C. Blanchard; mite gatherers, Mrs. Mary DeLong, Mrs. H. P. Mitchell, Mrs. W. H. Hill. After appointing committees for different purposes, the little circle adjourned to hold its first social at the home of Mrs. Sarah Mitchell July 16, 1896, at which time several new members joined us. We have at present nearly fifty members and are prospering finely. Our present officers are: President, Mrs. DeLacy Benjamin; secretary, Mrs. I. E. Smith; treasurer, Mrs. A. W. Francis.
Ira E. Smith, the largest furniture dealer and undertaker in the town of DeRuyter, has been engaged in the business in this village since Dec. 6, 1886. Actively interested as he has been in all improvements which promise to help in creating business activity and growth of population in the village, Mr. Smith is generally among the first to devise and promote public improvement. As one of the village trustees in 1896 he helped plan and carry into effect measures which secured to the village the present adequate and indispensable water supply system (See sketch, "The Water Supply," on another page). On April 26, 1899, Mr. Smith's business was destroyed by fire, but with that enterprising spirit for which he is noted he rebuilt in a style of architecture and at an expense which sets an example worthy of emulation a business block of three stories with a massive store front and a very pretty connecting residential structure that are an ornament to the village. It is a spacious store well filled with an assortment of furniture and accessories above comparison with any other stock in the same line in this county or adjacent villages in Cortland county. Mr. Smith is an active and enthusiastic Republican in politics and a member of the DeRuyter Lodge, F. & A.M. The business is the outgrowth of a chair factory connected with a large planing mill, machine shops, lumber yard and a general business in agricultural implements, which was established about fifty years ago by Joseph Crumb, who succeeded A. S. & H. A. Gardner who for several years were engaged in the carriage and cabinet manufacturing business in connection with a real estate and undertaking business. Adjoining were old buildings which were occupied by the Cazenovia Lumber company and were burned (see sketch "Fire of 1899" on another page). Mr. Smith was born in Lincklaen, Chenango Co., N. Y., Aug. 29, 1855. His father, Richard P. Smith, a native of Chatham, Columbia Co., N. Y., settled on a farm in Lincklaen early in the twenties and there he died Oct. 6, 1883, in his seventy-eighth year. Ira Smith left the farm when he came to DeRuyter in 1886. On Oct. 2, 1889, he married Blanche M., the daughter of Frank D. and Nancy (Angell) Wire.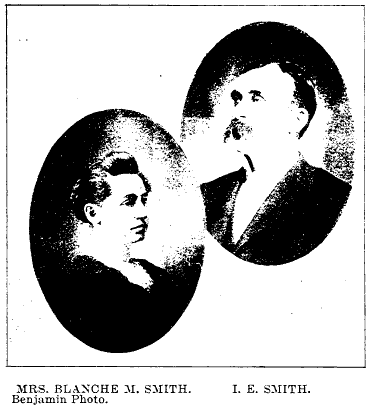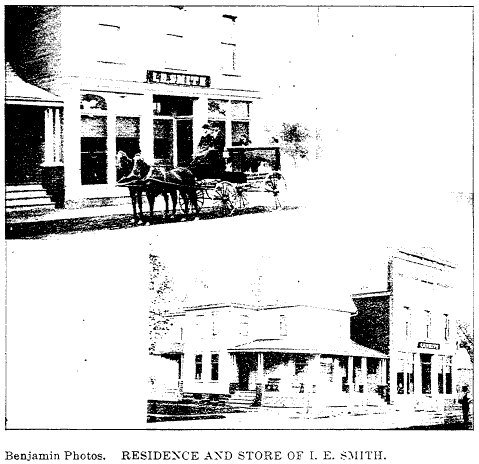 ---
Death Penalty.---The first execution in Madison county was that of Alpheus Hitchcock, who was tried and convicted at the first term of oyer and terminer which convened in a school house in the town of Sullivan on July 3, 1807. Hitchcock was hanged at Cazenovia Sept. 11, 1807, for the murder of his wife by poison, near Madison village on April 6, 1807. Mary Antone was hanged at Peterboro Sept. 30, 1814, for the murder of an Indian girl who had won her lover. Abram Antone killed John Jacobs who was the principal witness against his daughter Mary, in 1815. For several years he was in hiding, but he was executed at Morrisville Sept. 12, 1823. Lewis Wilbur was hanged at Morrisville Oct. 3, 1839, for the murder of Robert Barber, August 30, 1837. John Hadcock was hanged at Morrisville, Feb. 24, 1854, for the murder of Mrs. Mary Gregg.
Warren W. Ames, proprietor of the DeRuyter Gleaner, was born in DeRuyter, February 25, 1850, being the third of the eight sons of Fordyce W. and Electa E. Ames. He was educated in the district schools and at DeRuyter institute. In the fall of 1868 he went to Coffee county, Tenn., where he remained a year as teacher; the following winter he taught in Libertyville, Ill., and for the two succeeding winters in his native state. After working a year in the DeRuyter New Era office he founded, April 18, 1872, (in connection with Sackett Hart, who retired three months later) the Cape Vincent (N. Y.) Eagle, which he published five years; in 1876 he purchased the Clayton Independent, publishing both papers one year. In 1878 he sold the Independent, returned to DeRuyter and established the Gleaner, which he still publishes. He is also the patentee of the Ames addressing machine, which is used in several hundred printing offices throughout the country. Mr. Ames was married February 17, 1872, to Miss Ella M. Wilcox of Lincklaen, N. Y. They have one son, Clifford W., born September 17, 1878; three children, in Jefferson county died of diphtheria in the fall of 1877. Politically Mr. Ames is a Republican. In 1887 he served as town clerk; in 1894 he was elected supervisor, which office he held for six years, declining a renomination in the fall of 1899.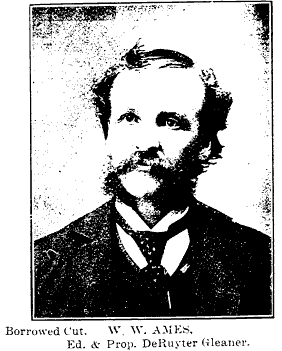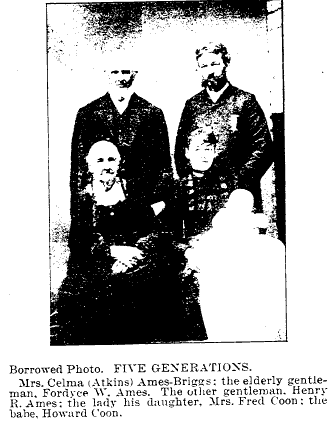 ---
The Newspapers of DeRuyter.---The first paper we can find a trace of was the DeRuyter Herald, established November 5, 1834, by C. W. Mason. It was a weekly, with four pages of five columns each, and contained little or no local news. The publisher announces that the "office is in the yellow building opposite the Presbyterian church. Terms, $2.00 a year in advance. To good responsible post riders a handsome deduction will be made." Its columns were well filled with advertising, and a glance at them may be interesting. Miss H. M. Rice announced the opening on April 1, 1835, of her "Select school for Young Ladies;" Mrs. Mason offered her services as milliner, Miss M. Fish as milliner and dressmaker, Z. T. Bentley as attorney, Ira Spencer as druggist; J. N. Elmore, Israel Smith, E. D. Jencks and Crandall & Walker offer for sale general merchandise; Sutton, Sears & Co. advertise as tanners, with boots and shoes for their customers; LeBaron Goodwin and J. R. Rider & Co., offer saddles, harnesses and trunks; C. & P. Judson are announced as hotel keepers, S. G. & G. Sears as wool buyers, and Brainard & Gage (father of the present Secretary of the Treasury) as hatters. George Sears was postmaster. A. F. Bunker advertised the "DeRuyter Springs," some two miles north of the village, in those days a popular resort. The Herald lived but a year and was succeeded in 1836 by the Protestant Sentinel, which was moved here from Schenectady; its office was in the school building until spring of 1837, when it moved into the Stillman block. In the fall of 1837 the proprietors, J. & C. H. Maxson, sold it to W. D. Cochran, who changed its name to the Protestant Sentinel and Seventh-Day Baptist Journal; in 1840 it passed into the hands of Greene, Campbell & Burdick, who rechristened it as the Seventh-Day Baptist Register and sold it the following year to James Bailey, who continued its proprietor until 1845. The paper subsequently moved to New York, thence to Westerly, R. I., thence to Alfred Center, N. Y., and a few years since to Plainfield, N. J., where it is still published as the Sabbath Recorder, the organ of the Seventh-Day Baptists. For nearly two years DeRuyter was without a local paper when, in 1847, appeared the National Banner, a monthly devoted to literature, temperance and news. Its founder, A. C. Hills, was a gifted young man; after some two years he moved to Deposit and started the Back-Woodsman, with which he filled out the unexpired subscriptions of the Banner. In September, 1848, E. F. & C. B. Gould commenced the publication of the Central New-Yorker, over the store of Williams & Coon, in the Lafayette block (corner of Cortland and Division streets, on site of the store now occupied by E. S. Newitt). The Students' Mirror, a semi-monthly established by the students of DeRuyter institute in February, 1849, gave the place three papers for a time, but all were short lived. The field was vacant when, in 1851, C. P. Walker and A. C. Hills started a weekly paper entitled the Banner of the Times. This lingered for four years, and following its demise the people of DeRuyter were for nine years without a local journal. The field seems to have been very barren. It was not until the country was in the throes of civil war, in the fall of 1862, that a printer again attempted to eke out an existence here. At that time J. E. N. Backus founded the DeRuyter Weekly News and a little later a monthly, the Sabbath-school Gem. Both died in 1864, and for six years DeRuyter was again without a paper. In September, 1870, John R. Beden commenced the publication of the DeRuyter New Era, a Republican weekly. I. N. Smith was for a time associated with him as editor, and A. V. Bentley, Esq., the veteran postmaster, attorney and justice, contributed forcible articles to its editorial page for many years. The New Era suspended early in 1880. May 6th of that year C. E. Beekman and L. D. Blanchard purchased the plant and resumed the publication of the paper; June 4, 1884, it was consolidated with the weekly Gleaner. The weekly Gleaner was established September 18, 1878, by W. W. Ames. It was a six column folio, at $1.00 a year, issued from the Stillman block.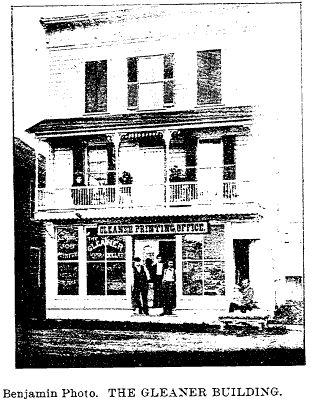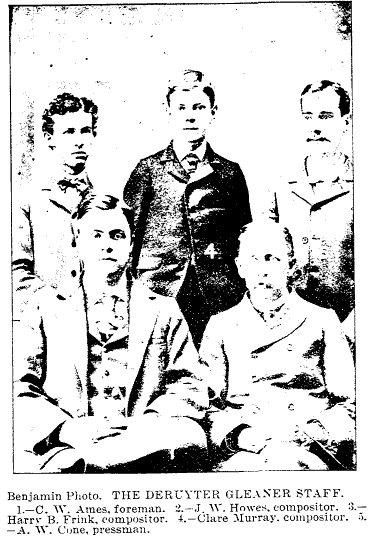 ---
The plant consisted of a Washington hand press, a Novelty hand inking jobber and about $250 worth of other material. To this constant additions have been made until to-day the Gleaner plant is one of the best to be found in a village of similar size in a state. A cylinder press was purchased in January, 1883, and the paper enlarged to a seven column folio; in December of the same year the office was moved into the Gleaner building, shown herewith. April 26, 1894, the paper was enlarged to a six-column quarto, the price remaining at $1.00 a year. Since July 12, 1894, the subscription business has been conducted on the cash-in-advance plan, which has proved very satisfactory to both publisher and patrons. The equipment of the Gleaner office is complete and up-to-date. It occupies the entire lower floor of the large building, which is heated by a Kelsey furnace, lighted throughout with gas and piped for hot and cold water on every floor. A Pelton water motor drives the Babcock Standard press, the 10x15 Golding duplex and large-eighth Prouty jobbers and the Golding folder. The outfit of type is very large and it is nearly all on the self-spacing or point systems. The regular weekly issue of the DeRuyter Gleaner for the past six years has averaged about 1,600 copies.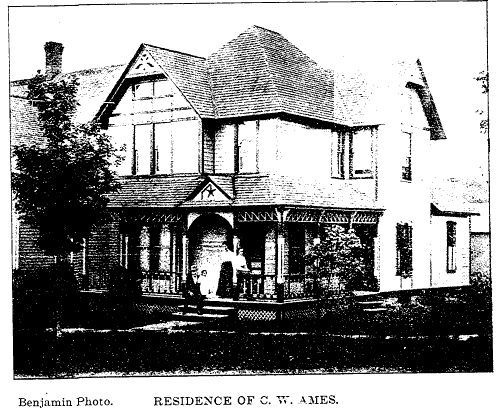 ---
The First Settlers in Madison County.---BROOKFIELD, Capt. Daniel Brown, near Leonardsville, 1791. CAZENOVIA John Lincklaen and Samuel S. Foreman, southern shore of Cazenovia lake, 1793. EATON, John and James Salisbury, 1792. FENNER, Dr. Enoch Leonard, 1797. GEORGETOWN, Ezra Sexton, 1803. HAMILTON, Mr. and Mrs. John Wells, Abner Nash, Patrick Shields and John Muir, near Earlville, 1792. LENOX, Conrad Klock and three sons, Clocksville, 1792. LEBANON, Joshua Smith, Smith's Valley, 1791. MADISON, Solomon Perkins, head of Madison lake, 1792. NELSON, Jedediah Jackson and Joseph Yaw, 1794. SULLIVAN, Jacob Seber, Garrett and George Van Lyke, John Palsley, John Freemyer, James and Joseph Picard, Jacob David and Yost Schuyler, 1790, at Canaseraga, the next year removed to near Chittenango. SMITHFIELD, Jasper Aylesworth, Peterboro, 1795. STOCKBRIDGE, Rev. John Sergeant, Cook's Corners, 1784.
E. H. Coon, blacksmith and manufacturer of wagons, came to DeRuyter and built the shop where he now carries on business in 1891.Centrally located and fully equipped for all kinds of blacksmithing and iron work and having experience in the most difficult as well as all branches of his trade, Mr. Coon has achieved success in DeRuyter. He has learned and adopted many new ideas which are of value to his trade. In 1899 he constructed a pretty residence, a view of which adorns these pages. Mr. Coon was born in Cazenovia July 8, 1855, attended school until fifteen years of age and subsequently worked on a farm. He learned his trade at Fayetteville where he worked two or three years and was employed in other shops until 1887, when he started the business for himself at Cazenovia. In 1877 he was married to Ida A., the daughter of Henry Poole of DeRuyter and they have two daughters, Bertha May and Mable N. In politics he has always been a Republican. He has the reputation of being one of the best general ironers and horse shoers in this section, and his patronage comes from a long distance.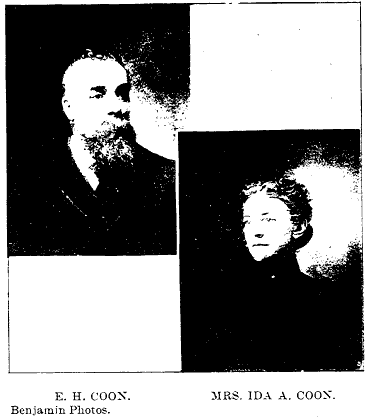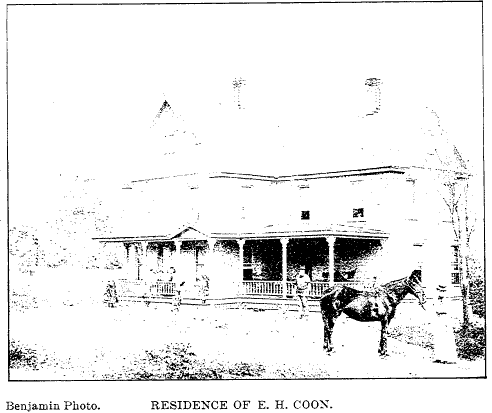 ---
Madison County Social club has many members in DeRuyter. It is a close Republican organization, organized in 1899, and every fall indulges in a clam bake and elects officers. The membership is about 400.
Griffith Bros., one of the leading and enterprising firms of DeRuyter, are up-to-date and foremost in the dry goods trade. They are young men who have had experience in the trade where modern methods prevail and they have come here to give the residents of this vicinity the benefit of that experience. Their store occupies two floors and is fully stocked with everything in the line of dry goods, dress goods, hosiery, ladies' and children's wear, boots and shoes, house furnishings, tapestries, silks, underwear, linens, wash goods, notions and groceries. Their department for oil cloths, carpets, wall paper, draperies, lace curtains is on the third floor. The firm comprises John O. and David R. Griffith. Both were born in Plainfield, Otsego Co., N. Y., the former Nov. 3, 1861 and the latter June 4, 1867. Both attended school at West Winfield and David R. took a course in the Utica business college. John Griffith lived on a farm until he was twenty-four years old, when he went into the grocery of E. N. Norton at Utica as a clerk. Afterwards he clerked for a year for Hugh Glenn & Co. and was thirteen years with J. B. Wells, Son & Co. He married Dora Humphrey of Utica, Feb. 9, 1888. David Griffith clerked for John A. Roberts & Co., Utica from June, 1884, to Sept. 1891, and for Hugh Glenn & Co. until he and his brother came to DeRuyter. This was on Sept. 1, 1899. They bought out the large store of E. H. Lee, who had carried on the business for twenty-five years and newly stocked it with the best styles. Mr. David R. Griffith married Mary A. Evans of Plainfield Centre in 1884.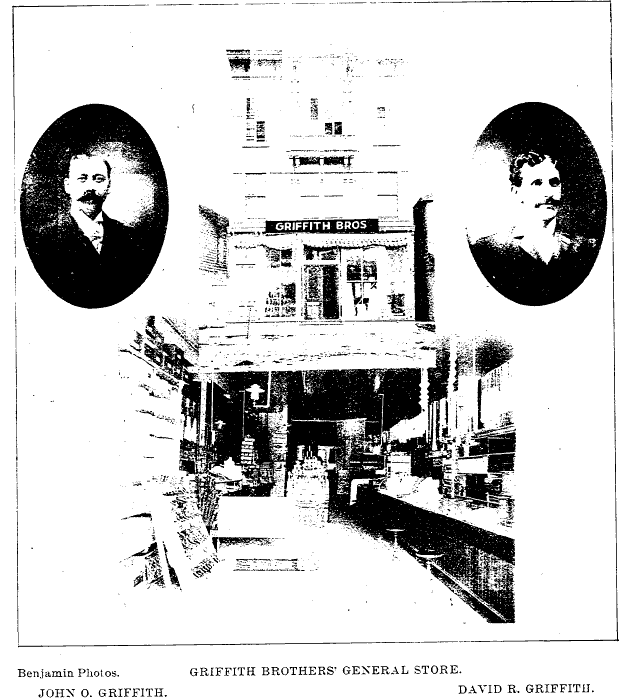 ---
Sheriffs.---[Appointed]:---Jeremiah Whipple, Cazenovia, 1806; William Hatch, Cazenovia, 1810; Jeremiah Whipple, 1811; Elijah Pratt, Smithfield, 1814; John Matteson, Nelson, 1815; Moses Maynard, Madison, 1819; Ezra Cloyes, Morrisville, 1821---elected, 1822. [Elected]:---Ezekial Carpenter, Cazenovia, 1825; Pardon Barnard, Lenox, 1828; J. S. Palmer, Lenox, 1831; Thomas Wylie, Lebanon, 1834; J. M. Messenger, Smithfield, 1837; Isaac Brown, Brookfield, 1840; Samuel French, Sullivan, 1843; William B. Brand, Brookfield, 1846; Francis F. Stevens, Eaton, 1849; Stephen M. Potter, Cazenovia, 1852; Milton Burnett, Smithfield, 1855; S. P. Chapman, Lenox, 1858; W. F. Bonney, Eaton, 1861; A. Stone, Smithfield, 1864; A. J. French, Sullivan, 1866; Edwin R. Barker, Madison, 1869; Milton DeLano, Canastota, 1872; W. M. Henderson, Madison, 1875; Milton De Lano, 1878; P. C. Brownell, Hamilton, 1881; C. K. Underwood, Cazenovia, 1884; L. W. Burroughs, Morrisville, 1887; C. E. Remick, Oneida, 1890; E. M. Perry, Georgetown, 1893; A. M. Carpenter, Cazenovia, 1896.
H. D. Messenger has practiced law in DeRuyter since 1897. He was admitted to the bar at Ithaca in May, 1882, and was married to Katherine J. Niver of Cazenovia June 30, 1886. They have three daughters: Madge, Miriam and Melicent. Mr. Messenger was born in the town of DeRuyter Dec. 1, 1857, and was the youngest of three brothers: Manson K., Andrew C., and Isaiah L. His parents were Isaiah and Catherine Messenger. His mother's name was Burdick, and her parents were among the early settlers of Lincklaen, Chenango county, as were his father's family of Otselic, Chenango county, and subsequently DeRuyter. His father was quite an extensive farmer in the '50's, and at an earlier date was a large sheep grower. Mr. Messenger took a scientific course in the DeRuyter academy where he was graduated in 1879. He began the study of law with the late L. B. Kern in DeRuyter in 1879 and completed his studies with D. W. Cameron of Cazenovia, N. Y., where after his admission to the bar he practiced from Aug. 1, 1882, up to about May 1, 1889. He then formed a co-partnership with Donald McLennan of Syracuse, which continued under the name of McLennan & Messenger for two years. Then for one year he practiced alone and for two years afterwards with W. A. Palmer, then returning to DeRuyter.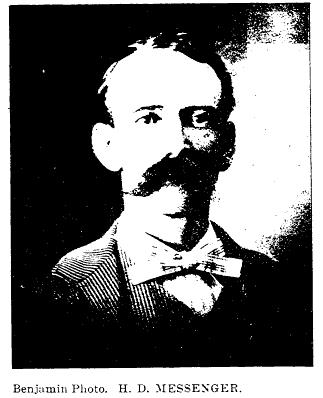 ---
The Missionary Society,Congregational church, was formed May 3, 1898, at a meeting of the Central Association of Congregational Churches, held at DeRuyter with Mrs. M. E. Tallett as its first president. It was organized as an auxiliary to the Women's Board of Missions, and has devoted the money raised to the work in both home and foreign fields. It has also sent supplies to needy missionaries in our own land, and now contributes to the support of a missionary in South Africa. The business meetings are held on the last Friday of each month, and the time spent in sewing for worthy objects, together with a literary program. Occasionally light refreshments are served. The present officers are: Mrs. D. W. Bull, president; Mrs. E. M. Stanton, secretary and Mrs. F. A. Tallett, treasurer.
Henry Jerome Crandall, the school historian for the Souvenir was born in Cazenovia Nov. 11, 1831, but has lived in DeRuyter since he was two years old. He possesses a remarkable memory for historical incidents. Deacon Henry Crandall, his father, located in DeRuyter in 1833, coming from Rhode Island, and in 1835, as one of the firm of Crandall & Alvord he constructed the brick block where they carried on a business for many years and which burned in 1878. Henry Jerome married Mary L. Maxson Jan. 9, 1854. Four children were born, viz: Henry Maxson, a resident of Cortland, Mrs. Mary Elizabeth Vapp of Allegany Co., Frank Everett, who lost his life by an accident in a foundry at Cortland, and Esther Arabel who lives at home.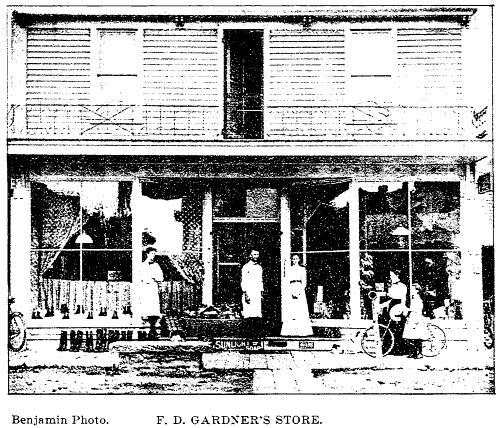 ---
The Gardner Homestead was one of the earliest settled farms in the town of DeRuyter. It is located one half mile west of Sheds Corners and at present consists of two hundred and eight of as fine acres of land as is there is in Madison county, being most altogether level and fertile and in a high state of cultivation. From the time this farm was occupied including the present it has always been in the Gardner family. The present owners, Frank D. Gardner of DeRuyter and his sisters, Blanche H. (Mrs. E. M. Stanton) of DeRuyter, and Ella M. (Mrs. F. J. Wescott) of Truxton, inherited the place from their father, the son of the original settler. The latter, Dwight Gardner, came to DeRuyter from Brimfield, Mass., about the year 1818 and settled on this same place, where he died. D. Foster Gardner, who was born March 5, 1838, succeeded his father in the ownership of the place. He became one of the most successful and respected farmers of the town. His whole time and effort were devoted to bringing the farm up to the very best condition so that it is largely due to his intelligence, industry and thorough knowledge of agriculture that the Gardner place ranks second to few if any farms of Madison county. D. Foster Gardner and Clarissa A. Smith of Cazenovia were married Jan. 28, 1864. By this union there were born the three children above mentioned. The death of Mr. Gardner occurred Nov. 28, 1899. He was deeply mourned by a large circle of friends. The farm is cultivated wholly for dairy purposes and at the time of the writing of this article it supported thirty-five head of fine Holsteins. The buildings and fences are kept up in excellent order and the accommodations for live stock are far in excess of what they are usually taxed. Mr. Frank Gardner worked the farm for some time before his father's death, but he subsequently moved to DeRuyter and bought out his brother-in-law, E. M. Stanton's grocery business, which he is now conducting. He was born on the homestead May 19, 1865. On April 7, 1887, he married Inez I. the daughter of A. E. Dewey, of Lebanon, Madison county. In 1891 he conducted a general store at Delphi and from March, 1892, until he moved to DeRuyter in 1899 he carried on the mercantile business now conducted by Mr. Wood at Sheds.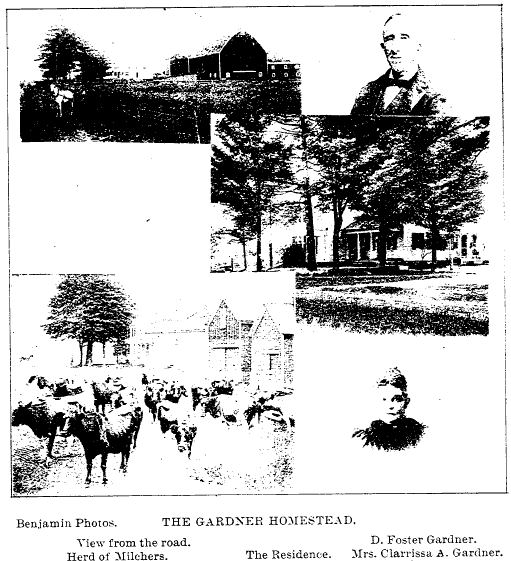 ---
The First Physician in the town of DeRuyter was Dr. Hubbard Smith, also first postmaster.
A. N. Annas, (see portrait "Builders of DeRuyter) a native of Cazenovia, came to DeRuyter in 1834 and opened a stove and tin store. He was one of the firm of Elmore, Annas & Ayer, who erected in 1841 the stone stores known as the Lafayette block, on Cortland St., which was burned about the year 1855. He also built the hotel known as the Annas House, afterwards called Tabor House, and erected and repaired a great many dwelling houses and buildings of various kinds. He was a man of good judgment, and had been honored by his townsmen with the office of supervisor and other positions of public trust, the duties of which he ever discharged with fidelity. During his last years he was confined to a wheeled chair, suffering from the loss of both limbs. He died February 5, 1889, aged 79.
Abram Hart settled in DeRuyter prior to 1813 and was a prominent business man from that time until his death at the age of 80 years. He held at different times the offices of town clerk, constable, collector, was justice of the peace nearly thirty years and president of the village in 1840. He commenced business in DeRuyter as a cabinetmaker and was later a grocery man. Mr. Hart was born in Conn., March 30, 1784. His parents were Thomas Hart, who was a Revolutionary soldier, and Ruth Payne, sister of Elisha and Samuel Payne, the founders of Hamilton, Madison Co., N. Y.
The First Farm Deed given in the town of DeRuyter was dated May 1, 1795, and it covered the Thompson Burdick farm.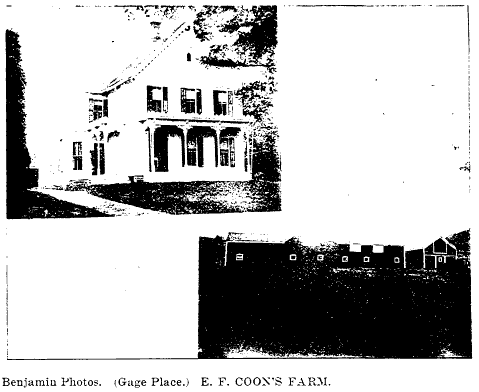 ---
The Gage Farm comprises 200 acres and lies a mile and a half from the village on the east side of the Cazenovia road. It is a picturesque and well cultivated farm with plenty of water flowing from springs, shaded lawns and large buildings. It is one of the prettiest farms and the house is one of the best of farm residences in the town. It was the old Gage homestead occupied by the family about seventy years. Mr. Edward F. Coon, a young man with progressive ideas, bought the property in Feb. 1900, and at once began making several improvements which he will carry on with the idea of completely modernizing the place.
R. Avery is a breeder of fine thoroughbred Holstein cattle. One of the best farms in the north part of the town of DeRuyter belongs to him, and it is there where he has a pleasant home, that he raises thoroughbreds. He has lived in Sheds, Madison county, his postoffice, thirty-two years. He was born in Pharsalia, Chenango Co., Jan. 3, 1853, but five years ago he purchased the farm of seventy-eight acres he now lives on. His dairy herd, in which are some very promising young cattle, are worth going to see.
---
The First School in DeRuyter was made of logs and stood near the old Messenger tavern about two miles north of the village, on what has since been known as the Gage farm. The first term was taught by Eli Gage in the winter of 1799.
Col. Elmar D. Jencks, the first merchant in DeRuyter and during his time the best known, opened a store on the northeast corner of Cortland and Utica streets in 1814 which he conducted until 1860. His practice was to give credit during the year and offset the account by buying up live stock in the fall if the farmer had any, and drive them to Albany. Farmers and their families trading at the store were usually invited into his hospitable home for dinner. Mrs. E. D. Fox of DeRuyter, his daughter, well remembers her mother setting table for twenty unexpected guests. A mahogany sideboard always catered to the colonel's friends. He trusted almost without limit and in spite of the losses this naturally incurred, which mounted into the thousands, he left a fortune to his heirs and a priceless reputation. He first appeared in DeRuyter in 1809 and started a distillery on what is now known as the Burtiss place, a mile and a half north of the village. In all matters of public improvement he was an earnest worker. His second wife was Widow Wallace whom he courted at her home in Keeney's Settlement riding to and fro on horseback. She was a courtly, fine looking woman, remarkable for her personal graces and charming, highly-bred manners. Her portrait on page 4 is a copy of an elegant painting now in the possession of Mrs. Fox.
The First Death in the town of DeRuyter was that of Gideon Foster which occurred in 1796. He was buried on the farm of Elijah Benjamin.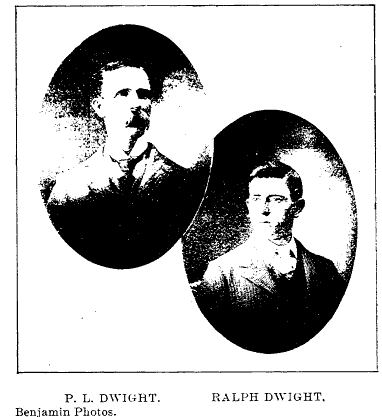 ---
P. L. Dwight, founder and proprietor of the DeRuyter Marble and Granite Works, bought the place formerly owned by Daniel E. Stillman, on Mar. 1, 1886. His dwelling house burned Jan. 20, 1897, and a new house nearly completed occupies the same site. The marble and granite works was built in the spring of 1886, and his trade extended into some of the adjoining towns where he had not previously solicited their patronage. Having been in the marble and granite business for twenty years he has perhaps as large a circle of acquaintances as any dealer in Central New York. While he is always ready to instruct his customers what is best for them to buy, he never urges them to go beyond their means; and he is too sensitive to ever beg a job. The work and the price must sell the goods. Mr. Dwight has always been an active worker at the bench and no dealer in his time can show more work wrought by his own hands than this man. While he has always given close attention to the monumental business, he has had a particular ambition to study, raise and care for bees, poultry, horses and cattle. Nothing but full bloods are worth his time and attention. He is the owner of General Grant, the full blood Percheron stallion, and Elbert Junior, the inbred Hamiltonean stallion, both of which have many fine colts to recommend their stock. He also breeds registered Guernsey cattle. His son, Ralph Dwight, is now associated with him in business and he has brought the Philo Burton farm to further develop and improve their horses and cattle. Mr. Dwight was born in German, Chenango Co., N. Y., Oct. 6, 1856. He was educated at the Cincinnatus academy, taught school about five years and commenced the marble and granite trade in partnership with H. L. Bentley, in his native town, in 1880. He moved to Cincinnatus in 1881, and ran a marble and granite shop there till he moved to DeRuyter in 1886. He was married to Lovisa Breed of Pharsalia, N. Y., May 31, 1878. She died Jan. 21, 1882, leaving one son, Ralph Dwight, who was born Mar. 22, 1879. Mr. Dwight married, Jan. 6, 1886, Ettie J. Coon, of Lincklaen, N. Y. To them were born four children: Clarence T., born Dec. 28, 1889, died Feb. 19, 1891; Baby Dwight, born Apr. 16, 1891, died May 6, 1891; Leon Clyde, born Oct. 17, 1897 and Ruth Alina, born July 18, 1899.

---
The Water Supply of DeRuyter is beyond question unsurpassed in volume and purity, being absolutely pure spring water with its sources at the head of a notch in the hills east of the village and protected by ownership to forty acres enclosing the springs. The fall to Cortland street is 428 feet, the water having a continuous circulation and fills a storage reservoir on South Hill, 190 feet above the village, which has a capacity for 750,000 gallons. The feed will maintain for ten hours for fire purposes five 1¼ inch streams. The entire plant cost $17,000. The contract price for the system including twenty-eight hydrants, was $14,000, but the right of way costing $1,200, and the forty acres surrounding the springs increased the cost to the above stated figure. Formerly a number of wells furnished water for fire purposes. They consisted of tanks in the ground which had to be filled by hand. In the fall of 1896 the board of trustees finding it necessary to spend $200 or $300 in repairs, decided to start a movement for a water system. They were president, J. E. Preston; trustees, I. E. Smith, O. M. Blanchard, and H. K. Nash. They found a cluster of springs on Everett Rolls' property. The trustees were enthusiastic over the project and after appointing themselves water commissioners, ordered a special election, the result of which was a tie vote. They then appointed a water board consisting of A. W. Francis, chairman; W. W. Owens, H. C. Blanchard, E. H. Lee, and Dr. E. N. Coon. A second election was held and the proposition was carried by a majority of three. On March 25, 1897, bids were advertised and on April 14, sealed proposals were opened, Birdseye & Sons of Fayetteville being awarded the contract. The present water board is B. S. Bryant, chairman; E. S. Newitt and Wm. G. Weed.
Monroe Cone is one of the largest buyers of eggs in DeRuyter, and his shipments to New York and other cities are very extensive, they amounting as high in a single year as 65,000 dozen. The eggs are all carefully handled, assorted and boxed by himself personally, so that whatever he guarantees as to quality and grade can be relied upon. Some years ago he was engaged in manufacturing cheese boxes at Quaker Basin, having started in the business in the spring of 1867. On June 6, 1884, this business, which then consisted largely of the manufacture of furniture, was cleaned out by fire by which he suffered a total loss. Resuming the business elsewhere he continued it with success until four years ago when he began buying eggs. He owns a valuable place at Quaker Basin and a pretty residence in this village. Mr. Cone's father, Daniel Cone, came from Connecticut and located in Lincklaen, Chenango Co., early in the twenties. When Monroe Cone was born, April 1, 1843, his parents were residents of that town. The latter attended district school and in the fall of 1863 was employed in the rake factory of Charles R. Maxson in the town of DeRuyter. The following year he worked in the cheese box factory of Thomas Johnson at Quaker Basin. On Jan. 15, 1867, he married Sarah Elizabeth, the daughter of Chapin Wood at Quaker Basin. She was born March 21, 1846. Her grandfather, Levi Wood, was one of the earliest settlers at Sheds and her mother, Louisa, was the daughter of Elijah and Sally Forbes Benjamin. The latter was one of the first two white women who settled in DeRuyter. Ada Bertha, the lovely daughter of Mr. and Mrs. Cone, died in her fourth year. Their son, Anda Wood Cone, who resides on the homestead at Quaker Basin, is a printer by trade and is one of the employees in the DeRuyter Gleaner. He was born Dec. 27, 1875, and married Alice Winifred, the daughter of John Dickinson of Chenango Forks, March 10, 1898. They have one child, Donald Monroe Cone, born Nov. 23, 1899.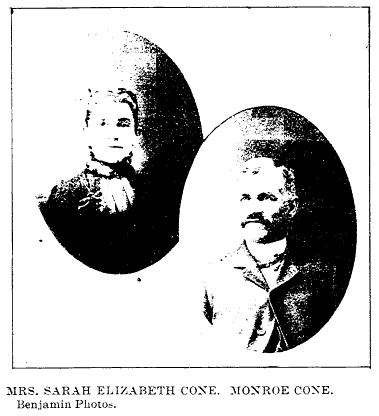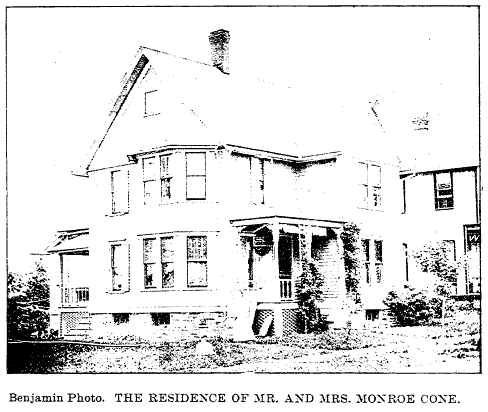 ---
Early Business Men---"I think Col. Jencks should be recognized as the earliest in DeRuyter," says an old resident. "Then come the Dillays, Henry and Fred, who succeeded their father, Israel T. Smith, Alvord & Crandall and Squire Abram Hart, who were all in business about the same time. Ephraim Arnold conducted a tannery and carried on a boot and shoe business. He was succeeded by Sears & Sutton who continued the business for a number of years. Simon Rider ran a tannery over by the north bridge where Hayes' blacksmith shop is now. This water privilege was previously owned by William Cochran, who run the old style of cloth manufactory and who was succeeded by Willard Wilcox. Jonathan Brainard employed a half dozen men in the manufacture of hats. The first postmaster I remember was George Sears. At that time there were five four-horse coaches being run on the turnpike between Ithaca and Albany. Two of these coaches passed through DeRuyter in the daytime and three at night---all daily. This was the point where they changed teams. The old Mansion House on the present site of Mrs. Gilbert Taylor's block, was the stage house, run by Thomas Nye. The building still stands and is cut up into separate stores. The old stables were long ago burned up. Stephen G. Sears, grandfather of F. S. Mitchell, succeeded George Sears, and was postmaster for several years. He sold the principal part of the flour then sold in the town of DeRuyter, all of which was carted from Manlius. It was sold principally by the pound and in pailsful. Succeeding him as postmaster was 'Squire Vernon Bentley, who held the position for, I think, twenty-four years. Elmore, Annas & Ayre conducted a dry goods, tin and hardware store in the stone block which stood on the present site of Newitt's store."
Byron S. Bryant, the president of the village water board and the supervisor of the town of DeRuyter, is serving his fifth year in the latter position, having occupied it four years in succession and being now on a new term of two years. His election has been insured by majorities which went as high one year as 155. Mr. Bryant is a Democrat and the town has a normal Republican majority of over 200. His period of supervisory covers 1888-'91; and 1900-'01. He has served as president of the village seven years and on the water board two years. Mr. Bryant is one of the incorporators of the bank of which he is the president and has been from the opening of that institution. Isaac S. Bryant, his father, a farmer in Truxton, Cortland Co., and a native of New England, married Catherine Bennett, who was born in Vermont, and they had four children, two of whom are living, Rodorpha (the widow of Augustus Perry) born July 2, 1838, and now a resident of McGrawville, and B. S. Bryant, born June 6, 1846. The latter attended district school in Truxton and worked on the farm until eighteen years old and during the following five years clerked successively for Record & Purdy, Boardman & Smith and George Bliss of that village, and the next two years worked in a cheese factory. On Dec. 24, 1868, he married Mary Ardale, the daughter of Austin L. Pomeroy of Truxton and in the spring of 1869, they located in DeRuyter, where Mr. Bryant at once began buying produce, a business he has since followed up with success. He is a member of A. O. U. W.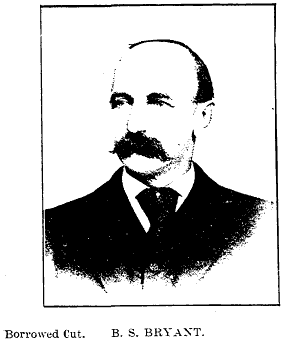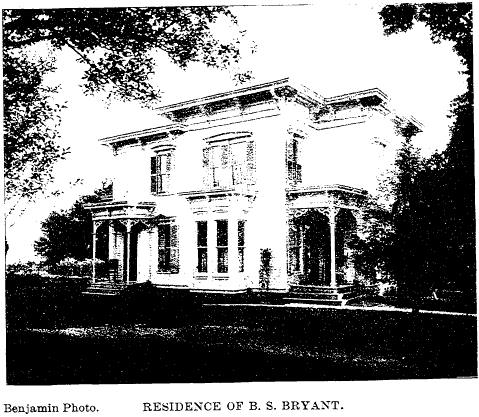 ---
A. G. Richmond---A curious fact is that one house in DeRuyter was the birthplace of Lyman J. Gage, once secretary of the treasury and Mr. Richmond. When Gen. Breckenridge crossed the upper Potomac Mr. Richmond, who was paying teller in the United States treasury---1862-'5---and an assistant were locked up all night in the vaults placing gold and greenbacks in leather bags so that in case of an emergency the vast government treasure might be readily moved to a tug which Gen. Spinner had in waiting and carried down the river. In one day Mr. Richmond and two assistants paid out over the counter $7,000,000. Mr. Richmond at the time of his death---at New Woodstock, Nov. 12, 1899---had in his Canajoharie home the finest collection of American Indian relics known, containing 20,000 specimens.
Census Sixty Years Back---The "Carrier Address" issued by the Seventh Day Baptist Register, January 1, 1841: "Statement of the Number of Inhabitants in the Village of DeRuyter, June 1st, 1840, taken by Stephen G. Sears, Assistant Marshal¾No. of heads of families, 121; males, 258; females, 260; whole No. 518; whole No. 1832, 325; increase 193."
The First Born in the town of DeRuyter was David Burdick, born on the Thompson Burdick farm at the head of the lake, May 25, 1796.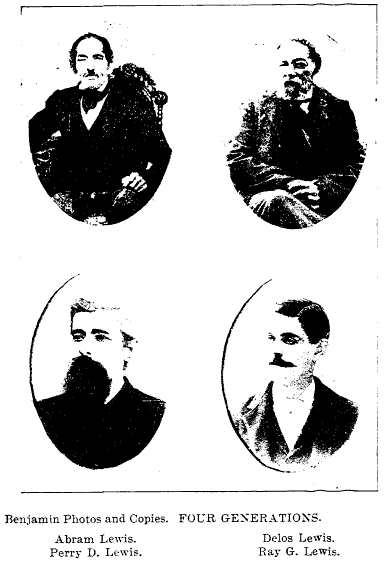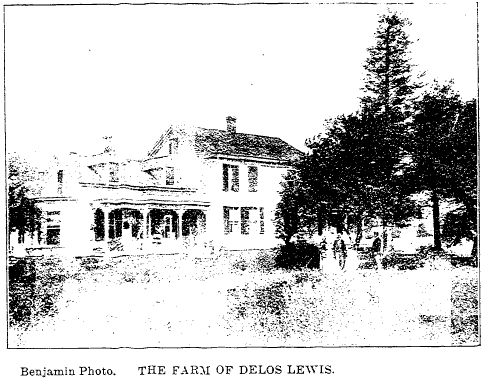 ---
Delos Lewis is one of the oldest and best known farmers in DeRuyter, where he has been actively engaged in agricultural pursuits all of his life. The rich, fertile farm of 125 acres, which is generally conceded to be the most valuable farming tract in the town, has been his property since 1864---his home for nearly forty years. It lies two miles north of the village, is almost entirely level and is in the highest stage of cultivation. This farm was taken up in a crude state, nearly covered with forest, in 1806, by Russell Walker, being at that time a part of the Holland land grant. From his hands it passed into the possession of Dyar Sexton, who afterwards served in the War of 1812 as a lieut-commander in the American army. He was born in Chatham, Ct., Jan. 14, 1785, and died on his farm Sept. 17, 1862, his remains being buried in the DeRuyter village cemetery. His son, Joseph Sexton, who succeeded to the ownership of the property and from whom Delos Lewis made the purchase, married Jane, the latter's sister. They removed to Canandaigua, where she still makes her home, having survived her husband by several years. Lewis Sexton, their son, who was brought up on the farm, left DeRuyter when a young man and distinguished himself in science, manufacturing and developing the microscope in Troy, and becoming widely known as a leading member of the American Society of Microscopists. He was also interested in the publication of the Troy Whig, in which he invested considerable money, and was a professor of sciences in several schools. One of the most prominent of the early settlers of DeRuyter who did much to turn the wilderness into a garden, was Abram Lewis, the father of Delos, who was born in the town and county of Fairfield, Ct., in 1786, where he lived until nine years of age, when his parents moved to Springfield, Otsego county, N. Y. Abram, when seventeen years old, trudged alone through the pathless regions intervening, with an axe and hoe over his shoulder and settled upon land which he purchased by contract on South Hill. The summer (1803) he spent in clearing land, putting up a log hut for his accommodation and packing his supplies from Salina on foot. In the winter he returned to Springfield, walking the distance 60 miles, in twenty-four hours, but came back the following spring to resume the labor of making himself a home. In May, 1814, he married Salona, the daughter of a prominent family named Pier, after whom was named Pierstown, Otsego Co., N. Y. The male members of this family participated in Shaw's rebellion. Abram had six children: George, deceased in 1891; Edwin, 1896; Jane (Mrs. Sexton); Ephraim, deceased in 1897; Cornelius, who lost his life by accident on a vessel in 1847, and Delos. Through industry and economy Abram and his wife acquired 400 acres, which they brought to a high condition of cultivation and when they died, Abram in 1864, surviving his wife by seventeen years, they were greatly honored and beloved. George, their eldest son, settled on his farm now owned and occupied by his son Delavan. Perry D., his other son, married Cornelia, the daughter of A. N. Annas, a prominent merchant of DeRuyter, and located in the village. He died in 1891, survived by his wife and their son Raymond G., who is in business in this village. Delos was born on the homestead March 18, 1826. When quite young he and his brother bought 150 acres---a part of the old farm---which they worked together until Delos sold out his interest and afterwards purchased the Sexton farm. He then married Rocelia, the daughter of James Carey, and they have since lived where they first went to keeping house. They had one son, Judson, who was born in 1866 and died in 1888, being cut down with the best prospects a young man could have had. Mrs. Lewis' father was a successful farmer in the early days of the town.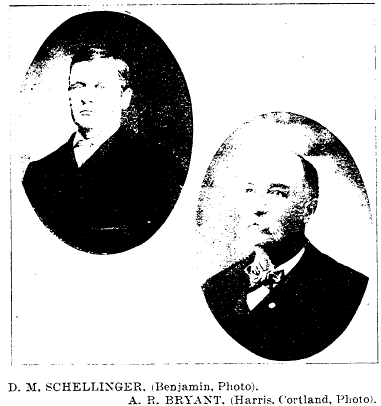 ---
The Bryant Furniture Company was organized by Mr. A. R. Bryant on Sept. 15, 1894, at Truxton, for the purpose of manufacturing furniture and lumber. At DeRuyter the company has a branch carrying on exclusively the manufacture of lumber. The Truxton plant comprising four buildings, produces bedsteads and suites of the cheaper grades made of maple and birch and requires a half million feet annually. These goods are sold principally in New York, Pennsylvania, and the eastern states. In the summer of 1899 the company erected at DeRuyter large lumber sheds and added a full line of lath, shingles, doors, sash and blinds and hard and soft pine for the retail trade. A great quantity of lumber is made up in the DeRuyter mill where hard wood is manufactured for the Truxton factory and one grade of wood used in manufacturing piano action is shipped east. The company or partnership is composed of A. R. Bryant, president, Peter D. Muller, A. R. Muller, O. D. Patrick and F. L. Hilton, all of Truxton. Mr. D. M. Schellinger is the manager of the DeRuyter branch, having come here in 1882 to take charge of Mr. Bryant's business. There is about $50,000 invested in the business at both places which makes it the largest industrial enterprise in this locality. Mr. A. R. Bryant started the lumber business at DeRuyter Dec. 1, 1880. On Dec. 1, 1889, he opened a furniture factory in a building which he erected in DeRuyter for that purpose, and ran it five years, or until the plant was consumed by fire which occurred on Sept. 6, 1894. He was born in Truxton Aug. 19, 1845, and was educated at that place. He conducted a hotel at Phoenix in 1868 after which he was engaged for three years in manufacturing butter tubs and firkins at Truxton. In 1871, in company with M. C. Skeele, Jerome McAllister and Freeman Schermerhorn, he put up a sawmill and lumber business, flour and feed mill and butter tub and firkin factory. Three years later that was burned. During the ensuing six years he was engaged in butchering. He is a member of the F. & A. M. and the A. O. U. W.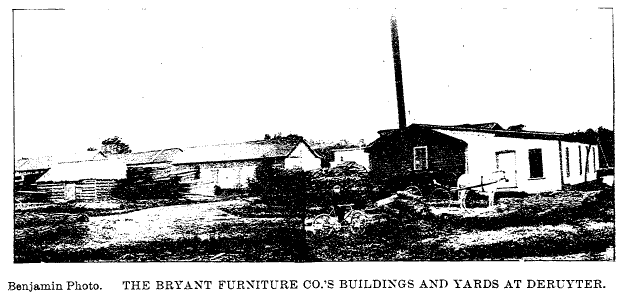 ---
Rake Factory---In 1863, 2,500 wooden rakes were manufactured at Charles R. Maxson's factory in the town of DeRuyter, three miles north of the village. Twenty-five men were then employed. Kenyon Munsey and Oscar Crandall bought the plant the next year and sold out to Dennis Coon.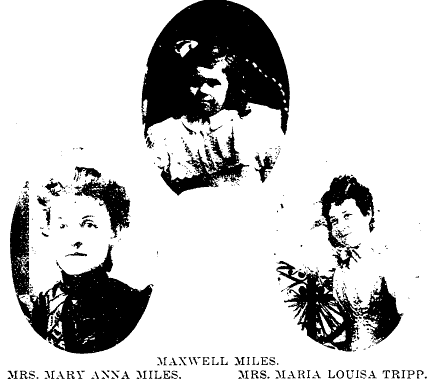 ---
Farrington Place is one of the older homesteads in the town of DeRuyter which lies one mile northeast of the village in one of the prettiest localities and most eligible of sights in the valley of the Tioughnioga. The farm comprising 150 acres is entirely level including broad, fertile meadows and cultivated fields which give a wide, unobstructed view of the towering hills to the east and west and the village partly hidden in dense foliage farther to the south. The residence is a typical country home, much of the colonial style, with spacious halls on the two floors opening out into the flower gardens on the east. All of the rooms, among which is the very pleasant diningroom in the southeast, have attractive outlooks over the open country for long distances. This is the country home of Mrs. Maria Louisa Tripp, wife of Mr. James H. Tripp, the banker at Marathon, N. Y., who with her daughter, Mrs. Mary Anna Miles, and the latter's little son, Maxwell Miles, enjoy the comforts of a suburban home with all the conveniences that the best provided country place can afford, during the hot months of the summer. An improved turbine windmill, drawing water from an artesian well fills the tanks from which the lavatories in the house are supplied, and furnishes an abundance of cold, pure water both for the tables and general farm purposes. Since Mrs. Tripp decided to make this her summer home where she might during the hot spell get quiet and seclusion and rest from social duties, she has, at a considerable expense, made many improvements. Having a natural sentiment for preserving as near as possible the old colonial features of the home that has so long been in her family, she has built on to the original house in a manner which has greatly beautified as well as enlarged its conveniences. A covered piazza eight feet wide has been run across the east and north sides giving seventy-eight feet of piazza from which the admirable range of rural scenery is within view. The piazza is crowned with gables over the entrances on the east and north. At the southeast corner of the house, where the direct rays of the sun enter during almost the entire day Mrs. Tripp has had constructed a conservatory in which the family take much pleasure in caring for choice flowers and plants. The grounds surrounding the house afford shady grass plots swept by cool breezes. A half mile north reached by a level and pleasant drive is Tioughnioga lake with its islands and promontories and its deep, clear waters having a stretch of three miles from the head to the foot.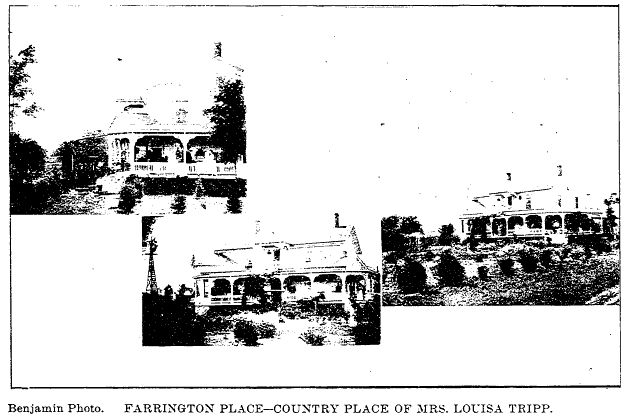 ---
Mrs. Tripp seems to have displayed admirable taste in deciding upon making this place her summer home, for no prettier spot could be found, so well fitted for rest, with so many excellent drives and strolls and with mountain and water scenery surrounding it. The homestead came into the family in 1839 when Mrs. Tripp's grandfather, Edmund Farrington, a native of Long Island, came to DeRuyter and purchased the place. The country hereabouts was then comparatively new and partially settled. Since then the place has been in the family having passed from the father to the son and then to granddaughter. Edmund Farrington had a family of eight children, the only survivor being Mrs. Powell of Skaneateles, N. Y. Edward Farrington, Mrs. Tripp's father, married Mary Hills, Oct. 21, 1852, at Fabius, N. Y. They had two children, Alfred who died in infancy, and Maria Louisa. For a time Mr. and Mrs. Edward Farrington lived on a farm a short distance west of the old place. Upon the death of Edmund Farrington the homestead passed into the hands of his son William who lived and died a bachelor on the old place. Although he was born on Long Island he was quite young when the family came to Farrington Place and he spent most of his life---about 60 years---there. His death occurred May 12, 1892, and he left the home to his niece who had long before that been married to Mr. Tripp. Her father died on his farm in November, 1892. Maria Louisa Farrington in 1869 married Martin Bogardus. Her marriage to James H. Tripp occurred Nov. 11, 1873. Mr. Tripp was then a merchant at Cuyler, N. Y., but he subsequently went to Marathon where he has since successfully engaged in banking. In 1892 and '93 he represented Cortland in the state assembly and as that body was in both years Democratic, Mr. Tripp, a member of the minority, who at home is an influential worker in his party, witnessed some stormy scenes. Mary Anna, the daughter of Mr. and Mrs. Tripp, finished her education by taking lessons in painting and drawing in which she followed a three years' course in the Art Students' league in New York. On June 21, 1893, she was married at Marathon to Warner Miles, a distinguished young physician of Hempstead, L. I., to which place they moved two years later, and where he entered upon a promising practice which was cut short by his death on Sept. 1, 1898. By this marriage there was born a son, Maxwell Miles, at Marathon, on June 4, 1895, a bright, promising boy, the only grandchild of Mr. and Mrs. Tripp.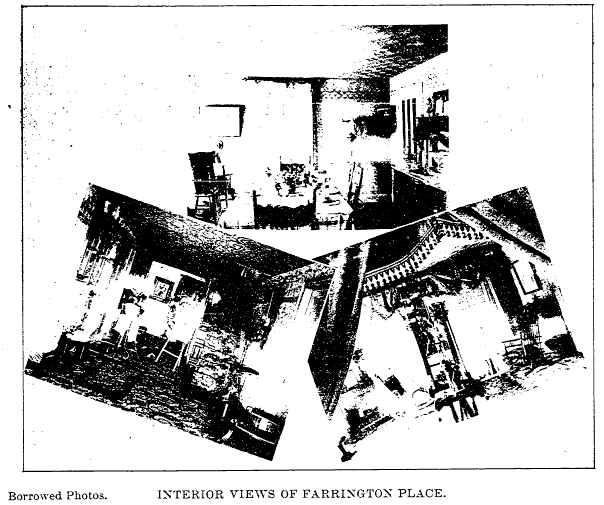 ---
Great Bells, the weight, viz:---"Great Bell," Moscow, 443,732 pounds; St. Ivans, Moscow, 127,830 pounds; Pekin, 120,000 pounds; Vienna, 40,200 pounds; Olmutz, Bohemia, 40,000 pounds; Rouen, France, 40,000; St. Pauls, London, 38,470 pounds; "Big Ben," Westminister, 30,350 pounds; Montreal, 28,560 pounds; St. Peters, Rome, 18,600 pounds; Liberty Bell, Philadelphia, cast in London in 1752, weighs 2,000 pounds. It was cracked the first time it was used in 1753 and was recast in Philadelphia the same year. A few years after the Revolution it was cracked again while being rung.
Population, the Earth and Area:---Africa, 127,000,000 pop.; 11,514,000 sq. miles; America, North, 89,250,000 pop.; 6,446,000 sq. m.; America, South, 36,420,000, pop.; 6,837,000 sq. m.; Asia, 850,000,000 pop.; 14,710,000 sq. m.; Australasia, 4,730,000 pop.; 3,288,000 sq. m.; Europe, 380,200,000 pop.; 3,555,000 sq. m.; Polar regions, 300,000 pop., 4,888,800 sq. m.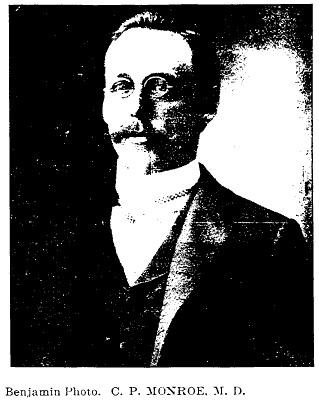 ---
Charles P. Monro, M. D., located in DeRuyter, Oct. 17, 1896, taking the offices vacated by Dr. A. W. Truman. He has acquired a large and arduous practice during the comparative short time he has been here. Dr. Monro, the son of Charles D. and Lydia Monro, was born in Cazenovia April 29, 1867. His early education was acquired in Cazenovia seminary. He began the study of medicine in the office of Dr. E. C. Bass of Cazenovia, preparatory to entering the Albany Medical college, where he spent the years of 1888 and 1889. Continuing his studies he entered the College of Physicians and Surgeons of Baltimore, Md., from which institution he took his degree April 14, 1892. Subsequently he took a special practical course in physical diagnosis with the late Dr. George Thomas in the wards of the Baltimore City hospital and also Bay View, the state hospital for the insane. Shortly after he formed a co-partnership with one of the most eminent physicians in Madison county, Dr. Levi P. Greenwood, then engaged in Erieville. Upon the death of Dr. Greenwood he succeeded to his entire practice, which he pursued until the favorable opening in DeRuyter invited him to remove here. Since locating in DeRuyter Dr. Monro has taken post graduate work in the Johns Hopkins university keeping abreast of recent advancement in medical science. The doctor is a Mason and is the local medical examiner for many of the old line life insurance companies. While practicing in Erieville he served a term as coroner for Madison county, being the first Democrat in forty years to fill that position in this county.
The Hills---Quaker Hill, east of DeRuyter, affords a view of forty miles north. A highway leads to the summit. Arad Hill, west shore of the lake, commands a splendid view through the valley into Manlius, Onondaga county, with Delphi in the foreground. Crumb Hill, 2 miles east, reached by public road, offers a grand view of rugged country. Parson's Hill, to the northeast, is the best birdseye point of the village. South Hill is reached by easy walking from the highway, a mile south of the village. From the summit, the range of vision extends to a great distance.
M. A. Blakeslee, local manager of the Cazenovia Coal and Lumber Co. came to DeRuyter in April, 1895, and entered the employ of Burr & Webster, who were at that time sawing and handling large quantities of hard wood lumber. At the time of the dissolution of the firm of Burr & Webster in June, 1895, they were succeeded by the first named company and Mr. Blakeslee has since been in their employ as foreman and manager. Mr. Blakeslee was born at Perryville, N. Y., and was educated in the district schools and Cazenovia seminary. He married Amelia J. Smith and they have two sons and two daughters living. Is a member of Tioughnioga lodge, No. 552, the Cortland Encampment, No. 127, and the Cortland Canton, No. 27, I. O. O. F. Has taught many terms of school. During the Justin Projectile trials at Perryville he had charge of the experiment grounds there.
DeRuyter Sixty Years Ago---Under date of May 30, 1849, the Central New-Yorker, published in DeRuyter, says: "DeRuyter village was incorporated in 1832, and now contains about 1,000 inhabitants, and is gradually increasing in population and business. In the village there are eight dry goods stores---each doing a good business---one hardware store, one hat store, one drug store, several grocery stores, two large tanneries, one iron foundry, two carriage shops, two cabinet shops, three harness shops, two clothing shops, three shoe stores, one printing office, two excellent hotels, two livery stables, etc., and many branches of mechanical industry which we have not room to mention. Our public buildings consist of three churches, the DeRuyter institute, and two very pretty district schoolhouses."
Distances from Cortland---Homer 2 ¾ miles; Scott 10; Preble, 10; East Homer, 6; Truxton, 11; Cuyler, 16; McGraw, 4; Solon, 8; Cincinnatus, 16; Taylor, 18; Union Valley, 23; South Cortland, 3; Virgil, 6; Harford, 12; Blodgetts Mills, 4; Marathon, 14; Freetown, 8; Lapeer, 12; DeRuyter, 20; Norwich, 40; Binghamton, 50; Ithaca, 22; Syracuse, 33; Little York, 7.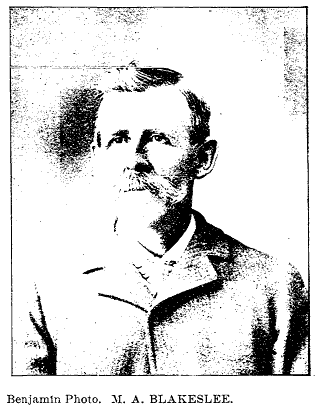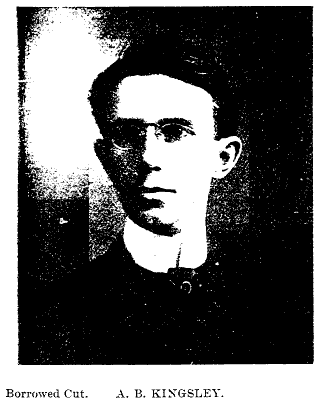 ---
Adelbert B. Kingsley, instructor on the piano, has been giving weekly lessons in DeRuyter for six years, beginning October, 1894, and his success has been flattering. It is greatly to his credit that Mr. Kingsley has had large classes here and has brought out the musical talent for which DeRuyter has become so widely known. His monthly recitals as well as his semi-annual public concerts have become features in musical and social circles which are looked forward to with interest. Since coming here the Beethoven musical society has been organized and so well has it succeeded that it has attracted the attention of the Syracuse papers which have given it the distinction of being the best of musical organizations in this section. Mr. Kingsley's home is in Cortland where he has regular classes throughout the year, and is prominent in musical circles, and where he has not a few scholars who come from the adjacent localities as well as in the city.
The Beethoven Musical Society was organized by the piano pupils of Adelbert B. Kingsley in 1896. It is customary to hold private recitals at regular periods during the year at the homes of the members, at which time the lives of famous composers are studied and some of their works performed. After the regular program musical games followed by light refreshments are in order. The first meeting was at the home of Miss Gertrude Samson, Feb. 20, 1896, and not long after the society was named after the great master Beethoven, and Mr. Kingsley was chosen president and Miss Bertha Annas the first secretary. This organization has made it a point to interpret the best of music and uplift the cause through this section. Besides the private recitals, they have conducted five public recitals and have been associated with two musical festivals given at Union hall, which consisted of four concerts assisted by noted musicians from Syracuse, Ithaca and Cortland. The Syracuse Standard says: "Considering the age of the society and the number of members it is undoubtedly one of the strongest and most talented organizations in the country." The officers and members are: Mr. Adelbert B. Kingsley, Cortland, president; Miss Cassalene Coon, DeRuyter, secretary; Miss Bessie Connell, Miss Blanch Beekman, Miss Ethel Williams, Miss Gertrude Hill, Miss Maud DeLong, Miss Clara Green, Miss Lettie McAllister, Miss Cora Coon, Miss Doris Gardner, Miss Gertrude Samson, Mr. Neil Annas of DeRuyter; Miss Nina Morse, Miss Clemina Elmore, Miss Ethel Moffett and Miss Florence Hindes of New Woodstock; Miss Lulu Potter, Miss Mabel Brown and Mrs. A. D. Theobald of Cuyler; Miss Josephine Patrick, Miss Gladys Westcott and Miss Jennie Goddard of Truxton.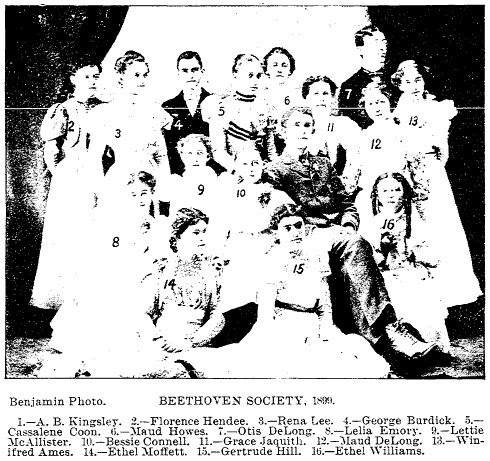 ---
Cities of China---Population:---Canton, 2,500,000; Pekin, 1,300,000; Siang-tan, 1,000,000; Singan, 1,000,000; Su-chow (Soo-chow) 1,000,000; Tiensin (Tientsin) 1,000,000; Chang-chow, 800,000; Wo-tchang, (Woo Shang) 800,000; Hang Chow, 700,000; Fuchan, 650,000; Shanghai, 586,000; Han-yang, 400,000; San-chow, 400,000; Chang-Sha, 300,000; Choong-King, 300,000; Ning-po, 255,000; Monkden (Mukden) 300,000; Hongkong, 221,000.
Edwin N. Coon, M. D., was born in Brookfield, N. Y., Sept. 6, 1838. His boyhood days were passed on the farm and he received his early education at the Brookfield academy and DeRuyter institute, commencing his studies in the last named institution in the fall of 1859. At the breaking out of the civil war he entered the U. S. service as a member of Battery A, First N. Y. Light Artillery, enlisting at Utica, Aug. 11, 1861, and being mustered in Sept. 12, 1861, served with that command through the Peninsula campaign and took part in the battles of the siege of Yorktown, Va., Williamsburg, Fair Oaks, Seven Pines, Malvern Hill, Harrison Landing, White Oak Swamp and Seven days battle before Richmond. After that he was transferred to the Medical Department of the army by order of Maj. Gen. B. F. Butler for meritorious services in the field and placed in charge of a hospital at Norfolk, Va., and he continued in that branch of the service until honorably discharged after having served over three years. Dr. Coon had an uncle, John P. Usher, who was secretary of the Interior at the time Lincoln was assassinated. The doctor was married to Sarah J. Campbell of Lebanon, N. Y., in November, 1864, and they have four children, Lottie J., S. DeWitt, Frank U., and M. Cassaline. He attended medical college at the Hahnemann Medical college of Philadelphia, and the University of Michigan, receiving his diploma from the Homœopathic department of the university in June, 1872. In the fall of 1872 he located in DeRuyter and soon found himself engaged in an extensive practice which he has maintained for twenty-eight years, during which time he has held several offices of trust and responsibility, among which were president of the village, member of the board of education, president of Madison County Medical society, member of water commission, special U. S. pension examiner, examining surgeon for several life insurance companies, health officer for the town and village and commander of the G. A. R. post.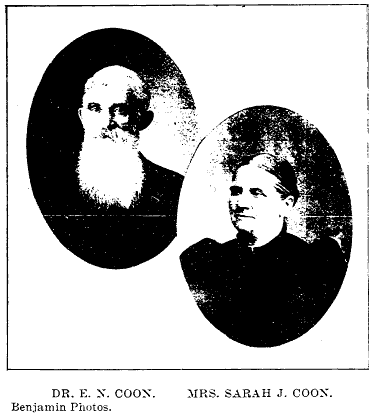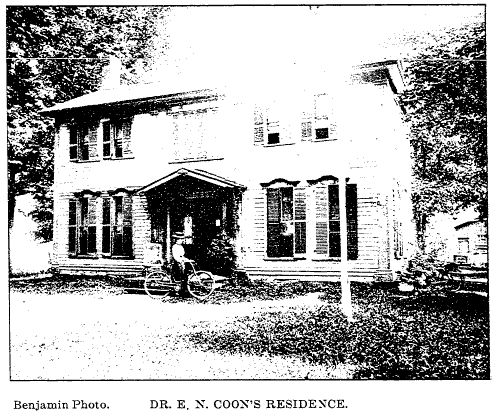 ---
Imperial United States---Acquisition of foreign soil:---War of Independence; war expenses, 168,000,000; 1783; 820,680 square miles, (thirteen original states.) LOUISIANA, from France by treaty; 1803, 899,570 sq. m.; treaty price, $15,000,000. FLORIDA from Spain by treaty; 1819; 66,900 sq. m.; treaty price, $3,000,000; TEXAS, an independent republic; admitted 1845; 318,000 sq. m.; debt assumed $7,500,000. OREGON from England by treaty; 1846; 308,052 sq. m. CALIFORNIA and NEW MEXICO from Mexico by war, 1846 and 1848; 522,955 sq. m.; war expenditures, $15,000,000. ALASKA from Russia by treaty; 1867; 580,107 sq. m.; treaty price, $7,200,000. HAWAII, an independent republic admitted by treaty; 1898; 6,740 sq. m. PORTO RICO from Spain by war; 1898; 3,600 sq. m. PHILIPPINES from Spain by war; 1898; purchase price $20,000,000; 120,000 sq. m.
Famous Giants---Goliah, Palestine, 11 feet high; Galbara, Rome, 9 feet 9 inches; John Middleton, England, 9 feet 3 inches; "Frederick's Swede," Sweden, 8 feet 4 inches; Cujanus, Finland, 7 feet, 9 inches; Gilly, Tyrol, 8 feet, 1 inch; Patrick Cotter, Cork, 8 feet, 7 inches; Chang Gow, Pekin, 7 feet, 8 inches.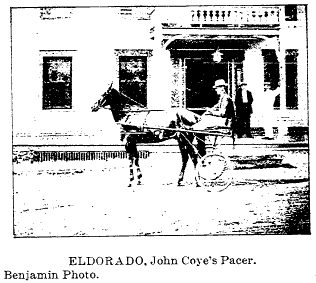 ---
The Tabor House is owned and conducted by John Coye, whose popularity as a landlord has given it a high reputation and a large business among the commercial men. For several years Mr. Coye conducted a café and became widely acquainted in DeRuyter and vicinity as well as with the traveling public so that when it was announced that he had taken the Tabor House the traveling public had reason to be well pleased. A large livery is conducted in connection with the house. Mr. Coye has a very promising pacer which has developed surprising speed at private trials on the DeRuyter track and which there is reason to believe, from an actual test in a mile heat, will score an exceptionally fast record. The Tabor House occupies the site of the first hotel in the village, which was built of logs by Daniel Page in 1800, who was succeeded by various landlords and was finally, in 1849, rebuilt by Abijah Annas. Two years later it was rented to Guest & Harris and two years after that to Gilson & Warfield. The latter was succeeded by Henry Marsh, each occupying the house three years. In 1859 it was sold to J. W. Clark who disposed of it in 1864 to Gilbert Tabor. Then the name was changed from the Annas to the Tabor House. In 1879 it passed into the hands of I. M. Judd and three years ago became the property of Mr. Coye. This is a favorite house for parties who desire to enjoy the excellent bass, pickerel and trout fishing near by. They are well taken care of and placed on the best fishing grounds fully supplied with all of a fisherman's paraphernalia.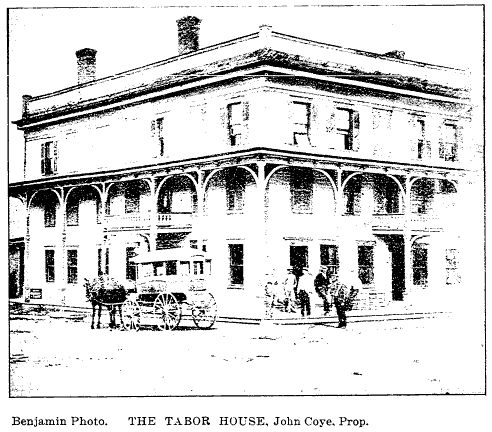 ---
Great Waterfalls---Krimbs Falls, upper Priuzgan river, 1,148 feet high; Verme Foss, Scandanavia 984 feet; Vettis Foss, Scandanavia, 853 feet; Rjuken Foss, Scandanavia, 804 feet; Velmo Falls, 591 feet, Tessa Falls, 541 feet, Gastein Falls, 469 feet; Skjaggedal Falls, 424 feet; Victoria Falls, Zambezi river, 391 feet; Niagara Falls, 177 feet.
Tioughnioga Lake is one of the best fishing waters in central New York. Black bass and pickerel are caught in abundance. It is an artificial reservoir made to feed the canal system. The dam at the north end is a splendid piece of masonry which compares favorably with the largest. The lake, at high water, covers an area of 600 acres and encloses two pretty islands which are favorite summer camping places. Some of the DeRuyter people own cottages built on the lake shore. The short ride from Syracuse makes it a desirable place for fishing parties. At DeRuyter Coye's hotel will furnish conveyances to the shores of the lake.
H. C. Blanchard, the only exclusive dealer in men's and boy's apparel in DeRuyter, founded the business in 1894 in company with W. P. Campbell, of Wolcott, in the store where he is now located, but he bought him out two years later and has since conducted the business alone. Mr. Blanchard carries a much larger and better stock than is customary in such a store located in a place the size of DeRuyter, as he has not only a widely distributed patronage but he sells largely to a class who demand the best and latest clothing, underwear, hats and caps, boots and shoes and gentlemen's furnishings. His father, Levi Blanchard, was born in the town of Cuyler, May 21, 1816, and was engaged for years in the manufacture of wagons in that village, and in speculation in butter and cheese. In 1860 he moved to DeRuyter where he constructed a wagon repair shop and carried on that work down to the time of his death, in the spring of 1886. Prominent as he was in local matters, he was more particularly active in keeping up an efficient fire company of which he was foreman for many years. His children were Ella J. (Mrs. Charles Beekman,) Orrington M., and Harry C., at present residents of DeRuyter, DeForest Blanchard, proprietor of the Cincinnatus Times, and Silas D., telegraph operator at Brockwayville, Pa. The Blanchards were one of the oldest families in Cuyler. Early in the present century William, the grandfather of the above named, came from the eastern states and cleared a farm on the hill above Kinney Settlement in what was then the town of Fabius, and is now a part of Cuyler, but some years later he moved down into the valley and located on a farm on the Truxton road about a mile south of Cuyler village. He was born in Windham, Ct., Nov. 13, 1772, and was married to Hannah Whitmarsh Feb. 22, 1797, which was the time he settled in this section. He died Sept. 16, 1854, and his wife, Oct. 21, 1844. Harry C. Blanchard was born in Cuyler Feb. 7, 1840. In 1859 he entered a commission store in New York City where he remained but a few months. For twenty-two years he followed the trade of a barber, most of which time he conducted a shop in DeRuyter. On Jan. 9, 1866, he married Louesie M., the daughter of Archibald Griffiths, of DeRuyter. Mr. Blanchard has been successful in business, and has invested considerably in village property. In his younger years he interested himself in amateur dramatic companies and became well known in this section of the state in connection with the several different local traveling organizations in which he was interested. He is a Republican in politics and a member of F. & A. M., the lodge and chapter, the A. O. U. W. and the Independent Order of Odd Fellows. The building in which his store and residence are located he purchased in 1893.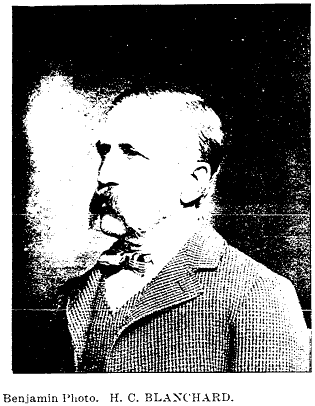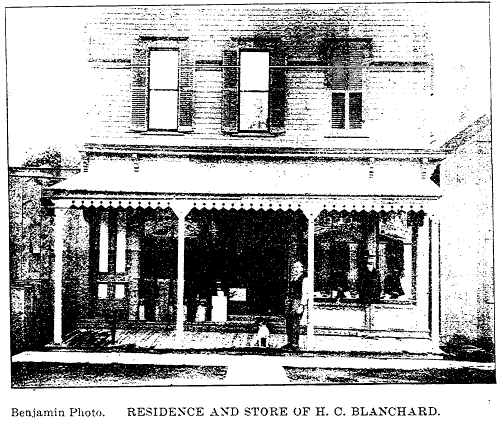 ---
Well Known DeRuyter People, (living or dead)---Lyman J. Gage, once secretary of the treasury; A. G. Richmond, paying teller in the U. S. treasury, 1862-'5; Ezra Cornell, founder of Cornell University; Thomas Nye, ex-state senator; Dennison York, "father of patent medicines;" Frederick Worth, teller of the Park National Bank, N. Y.; Ira Gage Barnes, banker, Syracuse; Henry C. Main, editor Rochester Democrat and Chronicle; Daniel Scott, showman; Henry Bentley, lawyer, Booneville; Frank Wells, dentist, Plainfield, N. J.; Charles Farrington, druggist, New York; Dr. Ira Spencer, physician; Dr. Russell Ballou; Charles H. Maxon, Presbyterian school board.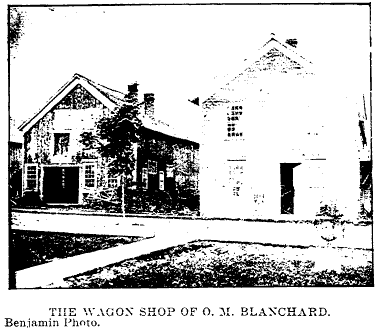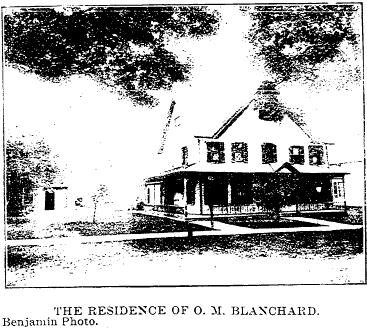 ---
O. M. Blanchard has been engaged in the manufacture of all kinds of wagons since 1883, at which time he succeeded to the business his father had carried on for years at the same place. In 1884 he bought the blacksmith shop adjoining of L. M. Vincent. There are wagons now in use all over this section which were manufactured several years ago by Mr. Blanchard and they have shown by wear, durability equal to any wagon in the market. Mr. Blanchard was born Feb. 14, 1850, in Cuyler. He was first engaged in house painting and afterwards wagon making. On Aug. 21, 1870, he was married to Sarah E., daughter of Rial Schellinger of Truxton. Their children are George Blanchard of New York, and Grace D. (Mrs. W. H. Hardie) and Harry B., of DeRuyter. Mr. Blanchard is a Republican and occupies the position of constable, which he has held for twenty years. He was one of the trustees of the village who are entitled to credit for putting in the water system.
Old Time Lawyers---So far as is learned, Abram Payne was the first lawyer in DeRuyter, coming here in 1823. Martin P. Sweet next opened an office here, and Lorenzo Sherwood, afterwards a practicing lawyer here and later in Hamilton, finished his studies in Sweet's office. The latter was succeeded by Zadock T. Bentley and George W. Stone--Bentley & Stone---Lorenzo Sherwood about the same time forming a business connection with his brother Luman. Both firms broke up about 1840, the first by death of Stone, and the other by the removal of Lorenzo Sherwood to Hamilton. Bentley became a brigadier general in the New York state militia in 1850, and was a prominent supporter of the Union cause during the rebellion. He moved to Morrisville, then Oneida, where he died in 1870. A. V. Bentley, his brother, became prominent as an adviser. His health broke down and he became a justice of the peace, which office he held for twenty-five years, doing considerable lawoffice work and but little active practice. David J. Mitchell and Henry C. Goodwin, who, upon their admission to practice entered into co-partnership at Hamilton, were students in A. V. Bentley's office. A. Scott Sloan and H. C. Miner next appear as the best known lawyers in DeRuyter. D. O. Mitchell, father of our present postmaster, studied with Miner & Sloan. The latter firm afterwards became Miner & Kern, Mr. Sloan moving west and Lambert T. Kern coming to DeRuyter from Morrisville. Messrs. Miner and Kern later on separated, and both practiced law in DeRuyter to the time of their deaths. Sidney T. Holmes begun practice here about 1864.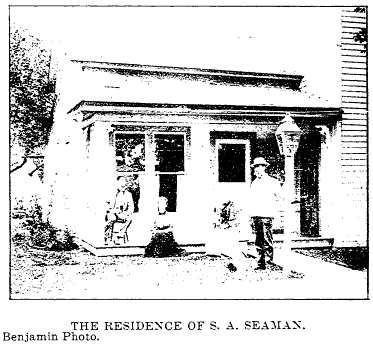 ---
The Spring House---Two miles north of DeRuyter, was once a favorite resort. It was owned by John Comstock. A part of the building now forms a section of John Carey's farm house. Sulphur water and huge swings once offered attractions for many visitors. Nothing now remains of the grandeur that once made this a favorite summer resort.
Wm. H. Hardie, who carries on the oldest dry goods store in DeRuyter, started the business in March, 1894, at which time he located in his present quarters, the corner store in the Russell block. Mr. Hardie came to DeRuyter in 1894 from Camden, N. Y., where he was head salesman for a large dry goods house for a number of years. In equipping his store he made the best selections in staple and fancy lines and has since kept up the character and variety of goods for which the business is noted. It comprises everything in the dry goods branch of trade including dress goods, hosiery, everything in ladies' and children's wear, carpets, wallpaper, boots and shoes and rubber goods, upholsteries, etc. The store is large and roomy and well lighted. It is peculiarly well arranged to display goods. Mr. Hardie was born at Johnstown, N. Y., and educated in the common schools in Gouverneur, St. Lawrence Co., N. Y. He was engaged in mercantile trade in Antwerp and afterwards in Camden, N. Y., coming from the latter place to DeRuyter as has been stated. On Feb. 9, 1898, he was married to Grace, the daughter of O. M. Blanchard of DeRuyter. He is a member of the Rome Commandery, Knights Templars, No. 45, and the Camden lodge, F. & A. M.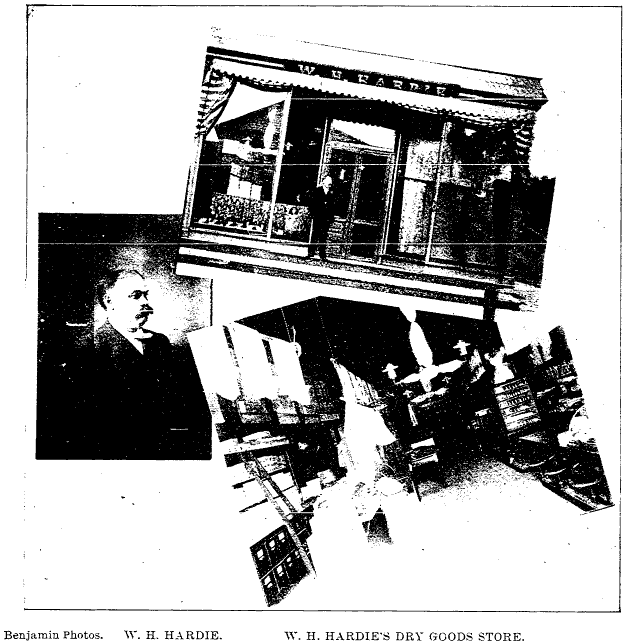 ---
Greatest Fires---London, Sept. 2-6, 1666, 13,200 residences and 89 churches and public buildings destroyed. New York, Dec. 16, 1835, 600 buildings; loss $20,000,000. Pittsburg, April 10, 1845, 1,000 buildings; loss $6,000,000. Philadelphia, July 19, 1850, 350 buildings; loss $1,500,000; St. Louis, May 4, 1851, loss $15,000,000. San Francisco, May 3-5, 1851, 2,500 buildings; loss $3,500,000; Santiago, Spain, Dec. 8, 1863, 2,000 persons killed. Portland, Me., July 4, 1866; loss $15,000,000; Chicago, Oct. 8 and 9, 1871, 1745 buildings destroyed; three and one-half square miles of ruins; 200 persons killed; 98,500 made homeless. Boston, Nov. 9-11, 1872, 800 buildings; loss 73,000,000; 15 persons killed. St. Johns, N. B., June 21, 1876, loss $12,500,000. Brooklyn theatre, Dec. 5, 1876; 300 lives lost. Seattle and Spokane, Wash., 1881; loss $10,000,000 each.
Mountains, New York---Altitude and locality, viz:---ADIRONDACKS:--- Marcy, 5,467 feet, McIntyre, 5,183, McMartin, 5,000, and Dial (Nipple), 4,600 in Essex county; White Face, 4,855, Clinton county; Seward, 4000, Franklin county. CATSKILLS:---Round Top, 3,804, High Peak, 3,718, Pine Orchard, 3,000, Greene county; Shawangunk, 1,866, Orange county. HIGHLANDS, Orange and Putnam counties:---New Beacon, (Grand Sachem) 1,685, Butter Hill, 1,520, Old Beacon, 1,471, Breakneck, 1,187, Anthony's Nose, 1,128. ISOLATED:---Defiance, (near Ticonderoga) 750, Essex county; Palisades, 550, Rockland Co.; Fort Putnam (near West Point, 500, Orange Co.; Harbor Hill, 319, Long Island; Richmond Hill, Staten Island, 307.
Frank M. Russell, one of the leading merchants of the village, bought out David Dingman's stock of groceries and drugs which were then in the Merchant building on the southwest corner of Cortland and Lincklaen streets, May 7, 1887. The stock was put in about a year before that by J. W. Stillman, who in turn had sold out to Mr. Dingman: and Mr. Russell had been in the employ of the latter five or six months when he bought him out. Mr. Russell bought the Russell block in February, 1894, and moved into it with his business in March of the same year. It is the largest business block in the village, a frame structure, two stories and mansard, occupying the central business location of the town. By making some changes in the interior plans of the building it is made to accommodate two large stores with spacious and attractive dwelling apartments, the home of Mr. and Mrs. Russell, on the second floor, and lodge rooms on the third. The building was constructed in the summer of 1890 on the site of the old Merchant block, which was burned the same spring (see "Fire of '90" on another page), by E. R. Smith, from whom the present owner bought it. Both stores accommodate a large stock of goods.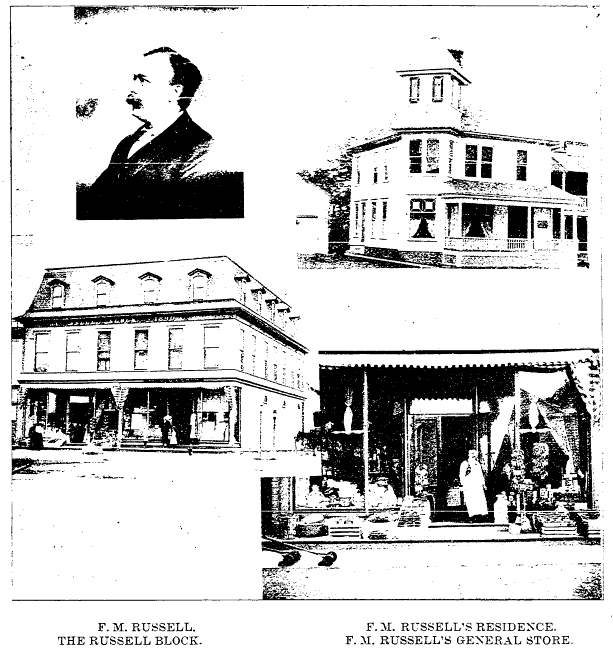 ---
Mr. Russell, who occupies the east store, carries a complete line of general merchandise --- groceries, silverware, jewelry, crockery, hardware and fancy goods and his trade comes in from a wide stretch of adjacent country. It is largely on a cash basis and in the success he has achieved, is demonstrated the flourishing condition of the village and farming community, as well as the thrift and business acumen he possesses. Mr. Russell was born in Lincklaen, N. Y., July 23, 1854, and was the son of a farmer, Allen J. Russell, who moved to DeRuyter when his son was 5 years old. He was born at Quaker Basin and was descended from Quakers. His mother, Wealthy Russell, was a ministering Friend of considerable renown. Mr. Russell attended the district schools and DeRuyter academy, and when 18 years of age went into the store of Annas & Lewis, where he remained for one year, and afterwards was engaged in different mercantile establishments up to the time he went into business for himself. He was married to Achsah Brown, of DeRuyter, in 1882. During the present year he bought the Spear property, next north of the Tabor House, and erected a large and pretty residence.
Muller Chateau---Inhabited, but rusty with age and needy in repairs, clapboards black and weather-worn, loose and broken and gashed and patched, stands in one of the most isolated spots of Madison county, the former chateau of King Charles X, of France. When the revolutionists cut off the head of Louis XVI, his younger brother, Compte d'Artois, fled to Holyrood, where his plottings against Napoleon ended in his pursuing the flight to New York. There, as Louis Anathe Muller, he wedded a Stuyvesant with whom he resumed his journey to the interior, accompanied by a retinue of attendants including his personal friend and physician, Pietrow, and his body-servants whom he brought from France. From Hamilton the supplies were carried back into Georgetown over bridle tracks. In that manner were brought in the bricks for the chimneys and the marble mantels, as well as costly furniture, tapestries and bric-a-brac with which the chateau was abundantly furnished; also immense andirons and marble slabs for seven great fireplaces. On the wooded heights overlooking the village of Georgetown, then a huddle of slab houses, Muller divided his time between supervising the work of artisans and laborers employed to make a clearing, erect the chateau and build parks, drives and fish ponds, and hunting or riding about accompanied by his wife, Adaline, looking over an estate of 2,700 acres and superintending the construction of saw and grist mills and a village a mile below the chateau, all of which have now disappeared. In May, 1814, he sailed for France, returning two years later to sell the estate which in his absence had been despoiled and stripped of its costly furnishings. Then he deserted his family in New York and a few years later, ascended the throne of France as King Charles X. In 1836, he died at Goritz, Austria, an exiled monarch.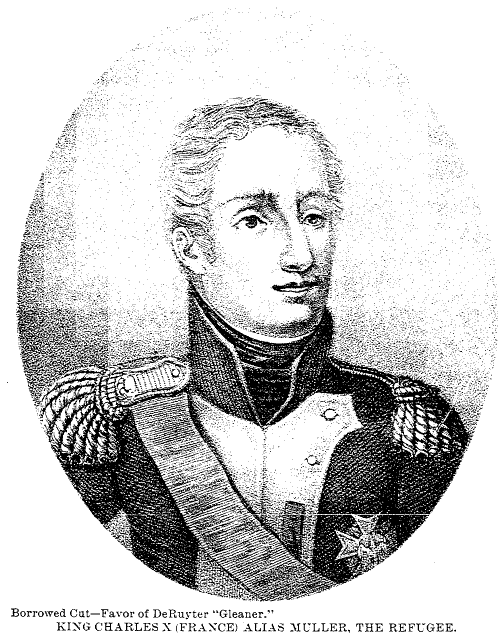 ---
After standing empty for years, the house is again occupied by George Shaw and his son, Frank, who in 1899, bought the place including 600 acres, for $1,000. On the cleared plateau, standing broadside 300 yards above the highway, in 300 acres of clearing surrounded by woods, is the old chateau with its wide, easy-sloping roof and embrasured widows. The interior plan is unchanged, except that only one fireplace remains. The building is remarkable for its size and the massive timbers used in constructing the frame work. The length between walls, by measurement in the second story where there are no partitions is 70x30 feet 6 inches. The height from the same floor to the peak is 11 feet and to the unceiled timbers, 7 feet. The frame consists of black cherry timbers dovetailed together and fastened with wooden pins, 11 feet high and 8½ inches thick. The supporting timbers are hemlock and the joists beech. The first floor is hard wood finish and the second pine. No part of the construction is changed except where the clapboards have been renewed. The main hall is 9 feet wide and 30 feet long. The height of the lower rooms is 8 feet 10 inches. The rooms are all large, the kitchen being 21x20 feet.
Hundreds of visitors call annually, and greatly enjoy the grand prospect of valleys and summits to be seen from the house, carrying away pieces of timber, and nails for relics. People yet living, whose fathers were employed by Muller, tell of his strange midnight vigils and his eager yearning for foreign news, which he frequently received in huge packets brought by mounted messengers. They repeat weird tragic tales connected with the mysterious disappearance of a peddler, and a well in the cellar, which is still intact and which was supposed to be connected with underground passages.
The First Tavern was built in 1795 on the farm now owned and occupied by Dell Lewis. It was known as the Messenger house, after the builder and proprietor, Joseph Messenger.
The Builders of DeRuyter.
[Key to Plate on Page 4.]

| | |
| --- | --- |
| 1.---Elmer D. Jencks. | 11.---Aaron Mitchell. |
| 2.---Mrs. Col. Jencks. | 12.---Allen Russell. |
| 3.---Abram Hart. | 13.---Wealthy Russell. |
| 4.---George Hull. | 14.---Col. R. P. York. |
| 5.---Simeon Rider. | 15.---Levi Blanchard. |
| 6.---J. R. Rider. | 16.---Jason B. Wells. |
| 7.---Zenas Rider. | 17.---Wm. Delamater. |
| 8.---Daniel Q. Mitchell. | 18.---H. C. Miner. |
| 9.---LeRoy H. Howes. | 19.---Lambert B. Kern. |
| 10.---A. N. Annas. | 20.---H. I. Newitt. |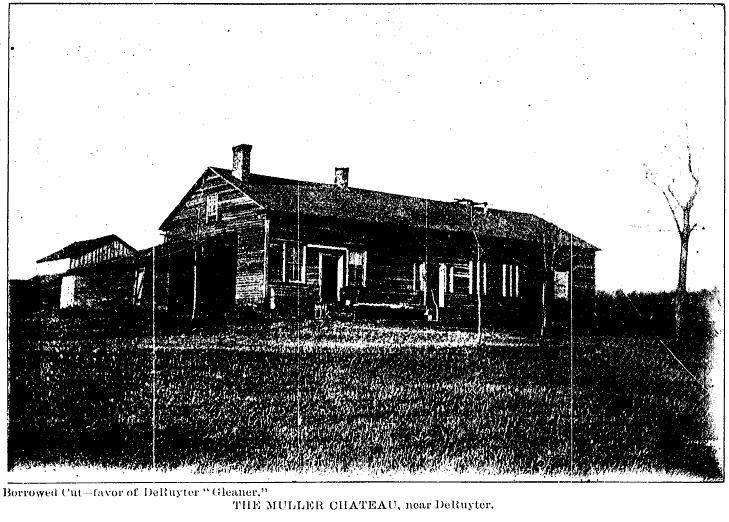 ---
Inventors--- Air gun, Marin, 1595; air pump, Otto VanGuericke, 654; anchor, Anacharsis, 594 B. C.; barometer, Evangelista Torricelli, 1783; bellows, Anacharsis the Scythian, 593 B. C.; camera obscura, Roger Bacon, 1297; camera lucida, Dr. Hooke, 1635-1703; cannon, Chinese, 618 B. C.; clock, first erected in Padua, 11th century; compass, Chinese, 1115 B. C.; cotton gin, Eli Whitney, 1793; dial, Anaximander, 550 B. C.; electric light, Sir Humphrey Davy, 1813; electrotype, Spencer and Jacobi, 1837; engraving, Chinese, 1000 B. C.; fire engine, Hautsch, 1657; gas, Van Helmont, 1600-1625; glass, Phoenicians; gunpowder, Barthold Schwarz, 1320; kaleidoscope, David Brewster, 1814; lightning conductor, Benjamin Franklin, 1752; lithography, Alois Senefeider, 1798; locomotive, Watt, 1759; matches, Walker, 1827; Microscope, Zacharias Jansen, 1590; organ, Archimedes and Cetesibius, 220-100 B. C.; phonograph, Thomas A. Edison, 1877; photography, Thomas Wedgewood, 1802; piano forte, Bartalommeo Christofall, 1714; pneumatic railway, Henry Pinkus, 1835; stocking frame, William Lee, 1859; printing, Johann Guttenberg, 1438; railroad, Beaumont, 1672; ruling machine, by a Hollander, subsequently improved by Paine, Woodmason and Brown, 1782; steamboat, Robert Fulton, 1807; steam engine, James Watt, 1763; sewing machine, Elias Howe, 1841; telegraph, Samuel F. B. Morse, 1837; telephone, Elisha Gray, A. Graham Bell, A. C. Dolbear, and Thomas A. Edison, 1877; torpedo, David Bushnell, 1777; telescope, Hans Lippersheim, Jacob Adriansz, 1608; thermometer, Dredbell Sanctorus, 1609; watch said to have been first invented at Nuremburg, 1477, although it is affirmed that Robert King of Scotland had a watch about 1310; spring watches have been ascribed to Dr. Hooke and by some to Huyghens about 1658, original watch to Graham about 1724, and the repeating watch to Barlowe, 1676.
Distances from New York by Water, viz.---Amsterdam, 3,510; Athens, Greece, 4,640; Batavia, Java, 12,180; Bremen, 3,800; Bermuda, 660; Bombay, 11,574; Boston, 310; Buenos Ayres, 7,110; Calcutta, 12,425; Cadiz, 3,120; Canton, 14,090; Cape Horn, 8,115; Cape of Good Hope, 6,830; Cape Race, 1,000; Cape Town, 6,800; Constantinople, 5,140; Charleston, 750; Columbia River, 15,965; Cronstadt, 4,662; Dublin, 3,225; Gibralter, 3,300; Genoa, 4,065; Greenland, 1,780; Halifax, 612; Havana, 1,170; Hamburg, 3,775; Havre, 3,210; Hong Kong, 14,015; Honolulu, 13,530; Key West, 1,107; Kingston, Jamaica, 1,640, Lima, 11,310; Lisbon, 2,940; Liverpool, 3,210; London, 3,375; Madras, 11,850; Manilla, 13,700; Marseilles, 3,900; Melbourne, 12,720;Mexico, 2,150; Nassau, W. I., 957; Naples, 4,330; New Orleans, 2,045; Panama, 2,358; Pensacola, 1,591; Port au Prince, 1,460; Pekin, 15,325; Philadelphia, 240; Quebec, 567; Rio Grande, 1,938; Rio Janeiro, 3,840; Shanghai, 14,500; Sitka, Alaska (ss. from San Francisco) 1,500; Smyrna, 4,935; Stockholm, 4,272; Sidney, 12,910; San Francisco, 15,858; St. Domingo, 1,495; St. Petersburg, 4,420; Tahita, 11,244; Trieste, 4,960; Valparaiso, 8,720; Venice, 4,950; Vera Cruz, 1,965; Washington, 400.
Famous Dwarfs---Count Borowlaski, Warsaw, 39 inches high; Tom Thumb (Charles S. Stratton) New York, 31 inches. Mrs. Tom Thumb, New York, 32 inches; Che-Mah, China, 25 inches; Lucia Zarate, Mexico, 20 inches; General Mite, New York, 21 inches.
Water, Size of Large Bodies---Pacific Ocean, 80,000,000 sq. miles; Atlantic, 40,000,000; Indian, 20,000,000; Southern, 10,000,000; Arctic, 5,000,000. SEAS (length)---Mediterranean, 2,000, Carribean, 1800; China, 1,700; Red, 1,400; Japan, 1,000; Black, 932; Caspian, 640; Baltic, 600; Okhotsk, 600; White, 450; Aral, 250. BAYS (length)---Hudson, 1,200; Baffins, 600; Chesapeake, 250. LAKES---Superior, 380 long, 120 wide; Baikal, 360 by 35; Michigan, 330 by 60; Great Slave, 300 by 45; Huron 250 by 90; Winnipeg 240 by 40; Erie, 270 by 50; Athabaska, 200 by 20; Ontario, 180 by 40; Maracaybo, 150 by 60; Great Bear 150 by 40; Ladaga, 125 by 75; Champlain, 125 by 12; Nicaragua, 120 by 40; Lake of the Woods, 70 by 25; Geneva, 50 by 10; Cayuga, 36 by 4; George, 36 by 3.
---
Transcribed by Dianne D - March 2005
---
Grip's Historical Souvenir
Madison County site
---
You are visitor
since 25 Aug 2011 -- thanks for stopping by!

There were 11,403 visitors to our previous host from 5 Aug 2005 to 25 Aug 2011.
---
Last updated: 25 Aug 2011
---
This page is maintained by Tim Stowell. Send any suggestions to him.
&copy Tim Stowell 2005-2011